Boris starts final election push hitting Labour heartland
9 December 2019, 07:58
As the General Election campaign has just 72 hours to run party leaders have started their final pushes to gain votes, with the Tory leader visiting a fish market in Grimsby.
With the smell of fish in the air, Boris Johnson was given a tour - with a couple of jokey shouts aimed at him by those working in the market.
"Nice to see you, Jeremy," said one, while another added: "Boo Boris."
Another man could be heard saying: "He brings them out, eh? Phoney b******s."
The Tory leader is on whistle-stop tour of marginals across the north-east of England hoping to secure support from Leave voters, in what is a traditional Labour heartland.
Mr Johnson plans to visit five Labour marginals which voted in favour of Brexit and could prove key on election night as the Tories target the Leave vote.
In a speech later, the PM is expected to say: "The Labour Party has let you down most of all. Under Jeremy Corbyn, they promised to honour the result of the referendum, before voting against Brexit every chance they had. They won their seats on a false prospectus and then stuck two fingers up to the public.
"Now they are proposing another referendum, this time rigging the result by extending the franchise to two million EU citizens. It's been the Great Betrayal, orchestrated from Islington by politicians who sneer at your values and ignore your votes."
Labour leader Jeremy Corbyn is set to head to the West Country to tour safe and marginal seats.
One worker in the fish market said it was "nice to see him mingling with us, it makes him seem normal."
He added he thought the Tories would be strong on the fishing industry.
Mr Johnson said he was "taking nothing for granted" in the final days of the election campaign.
Asked how confident he was he could scale the "red wall" of Labour, he told broadcasters in Grimsby: "We're taking nothing for granted, we're working very, very hard across the whole country and I think it's a message of unity of bringing this amazing United Kingdom together.
"If we can get Brexit done then we can move forward with investments in infrastructure, education and technology that will unleash opportunity across the whole country.
"It's a message that makes sense whether you're working in the arts and financial services in London or fishing in Grimsby or the arts and financial services in Grimsby."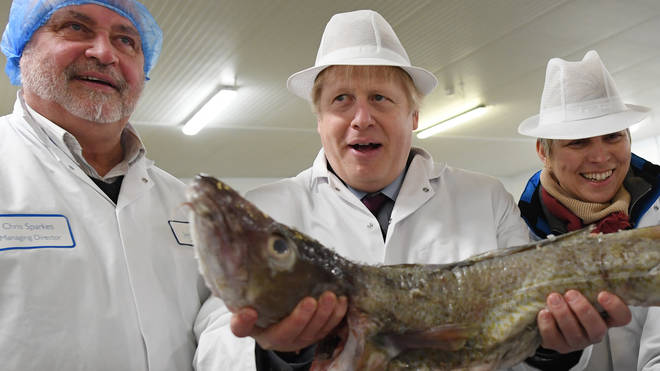 Cheers were also heard in Grimsby as the Prime Minister posed for selfies.