Tories launch 'fake Labour manifesto website' despite backlash over Twitter rebrand
21 November 2019, 13:20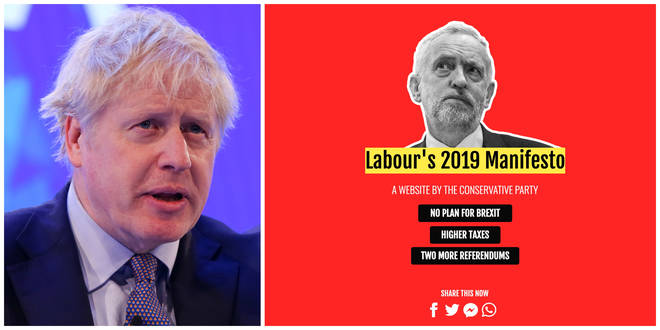 The Conservative Party has created a spoof website criticising the Labour manifesto which has been designed to look as though it has been made by their political rivals.
The website, under the domain name labourmanifesto.co.uk, looks like it comes from Labour at first glance.
But when you look a little closer, the content of the website criticises the content of the party's manifesto which was launched by leader Jeremy Corbyn earlier today.
It is set on a bright red background, which is traditionally the colour Labour uses, and says "No plan for Brexit", "Higher taxes" and "Two more referendums."
Just under a picture of Mr Corbyn, it says "A website by the Conservative Party."
Critics on social media have accused the Tories of playing "dirty tricks" after launching the site just minutes before Mr Corbyn took to the podium in Birmingham.
The website comes just days after the Tory party came under fire for rebranding their press office Twitter account as a fact-checking service.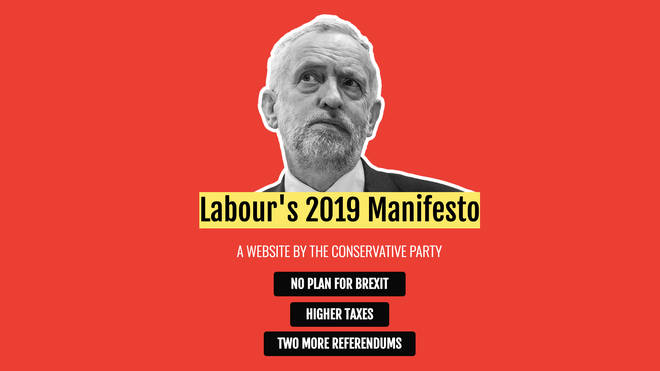 The fact that you have set up a fake labour manifesto page days after the CCHQ disaster shows the contempt Tories hold people in. I am embarrassed that this is politics in our country and embarrassed that you are my MP.

— Samantha Price (@SamanthaHaigh) November 21, 2019
The Tories changed the Conservative Party Headquarters press office account was renamed "factcheckUK" during Tuesday night's TV debate on ITV.
The account then offered commentary on statements made on Labour Leader Jeremy Corbyn and retweeted messages of support for Prime Minister Boris Johnson.
The party was ultimately accused of breaking its own Code of Conduct for the stunt, and was issued a sharp rebuke by Twitter warning that "any further attempts to mislead people" would result in "decisive corrective action".
The Electoral Commission - the official elections watchdog - also issued a warning saying voters were entitled to expect "transparency and integrity" from campaigners.
Senior Tory figures brushed off the controversy, saying it was part of their "instant rebuttal" mechanism to challenge "nonsense" claims made by Labour.
Foreign Secretary Dominic Raab said it had been perfectly clear throughout that it was a Conservative Party account and that no-one among voters "gives a toss" about the cut and thrust of social media.
However, former Conservative minister David Gauke - now standing as an independent - said it was "a blatant attempt to mislead people" by the Tories, in a way which would not have happened under Theresa May or David Cameron.
When LBC News approached the Conservative Party for comment, a spokesperson said the website was set up because the party "want the public to know the cost of Corbyn."