Labour could scrap Heathrow expansion plans, says John McDonnell
3 November 2019, 13:36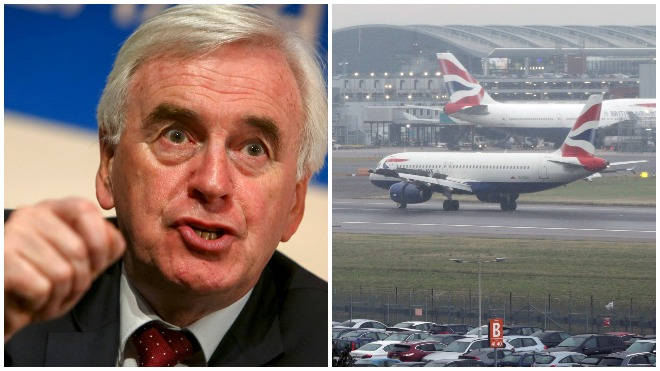 A Labour government may ditch the controversial proposal for a third runway at Heathrow Airport as part of its plan to tackle the climate crisis.
Shadow Chancellor John McDonnell said the expansion could be scrapped if his party wins December's election in a bid to make the UK carbon-neutral by 2030.
The politician said: "We set ourselves criteria, one of which was environmental impact, the other was also economic impact and social impact.
"On the current criteria, we've said very clearly, Heathrow expansion doesn't qualify ... at the moment it does not qualify based on the criteria we set out."
Other airport extensions would also be reconsidered under the criteria of the Labour Party, including in Manchester.
Last year, Parliament gave expansion to Heathrow the green light and published a "masterplan" in June this year that sets out a timetable for for building a third runway by 2026.
A real problem that Labour can't rule out all aviation expansion

The bottom line is that if we're serious about Net Zero by 2030 (and we have to be), there is absolutely no room for any UK airport expansion, anywhere#MarrShow #Marr #ClimateElection

— Caroline Lucas (@CarolineLucas) November 3, 2019
Green MP Caroline Lucas was sceptical about Mr McDonnell's promise, saying it was a "real problem" his party could not "rule out all aviation expansion."
She said: "The bottom line is that if we're serious about Net Zero by 2030 (and we have to be), there is absolutely no room for any UK airport expansion, anywhere."
It comes as Jeremy Corbyn also proposed a move to upgrade almost every home in the UK with energy-saving measures that would help the fight against climate change and save people money.
By installing loft insulation, double glazing and renewable and low carbon technologies in nearly 27 million homes by 2030, a Labour government would create 450,000 jobs and cost the government £60 billion, according to the party's plans.
Mr Corbyn's "warm homes for all" pledge seeks to cut carbon emissions by 10 per cent and would form a part of the largest investment project since World War Two, costing £250 billion.
Of that number - roughly £9,300 per home - the Labour Party expects just £60 billion to come from central government with a majority of the rest coming out of savings from household energy bills.
Loans to regional energy agencies would cost £21 billion.
We need real change to tackle the climate emergency. Labour has a plan to do exactly that – our Green Industrial Revolution.
If you want to save the planet, vote Labour. 🌍 pic.twitter.com/8FykjTqGul

— The Labour Party (@UKLabour) November 3, 2019
The Labour leader said: "If we don't radically change course we face the threat of a hostile and dying planet. But Labour will turn that threat into an opportunity.
"By investing on a massive scale, we will usher in a green industrial revolution with good, clean jobs that will transform towns, cities and communities that have been held back and neglected for decades."
Mr Corbyn expects the initiative to reduce the energy bills of almost 10 million households by £417 per year and to eradicate most fuel poverty by the mid-2020s.
Shadow Business Secretary Rebecca Long Bailey added: "Warm homes for all is one of the greatest investment projects since we rebuilt Britain's housing after the Second World War.
"Labour will offer every household in the UK the chance to bring the future into their homes - upgrading the fabric of their homes with insulation and cutting edge heating systems - tackling both climate change and extortionate bills."
The pledge forms part of Labour's "green industrial revolution" in which it plans to ensure all new homes built are carbon neutral.
Conservatives have condemned Labour's plan, saying the numbers do not add up and the costs would be too high.
"Tackling climate change is vital but independent experts and even Labour's own unions say their promises don't stack up," a spokesman said.
"The reality is that Jeremy Corbyn's plans would wreck the economy, putting up bills for hardworking families - and preventing any real progress on climate change."