Moment Boris Johnson drives 'Get Brexit Done' digger through 'Gridlock' wall
10 December 2019, 16:03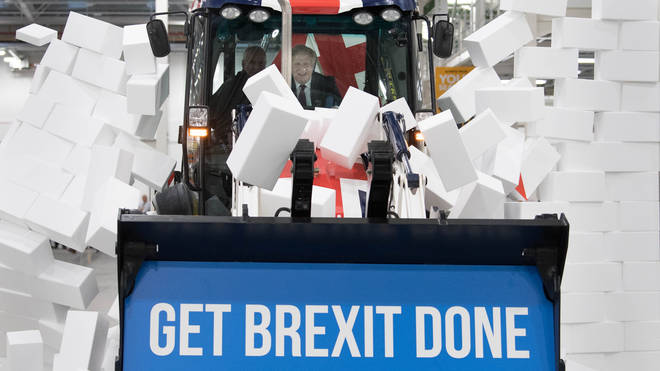 Boris Johnson has been filmed driving a Union Flag-emblazoned digger bearing the words "Get Brexit Done" through a wall with "Gridlock" written across it in his latest election campaigning stunt.
The Prime Minister ploughed through the polystyrene brick wall during a visit to the JCB Cab Manufacturing Centre in Uttoxeter, Staffordshire, on Tuesday.
Mr Johnson posed outside the cab before giving a thumbs up in a comical series of photos.
He then repeated his campaign slogan: "Get Brexit done."
Afterwards, he gave a speech to workers, in which he said: "On Thursday I think it's time for the whole country symbolically to get into the cab of a JCB custard colossus and remove the current blockage we have in our parliament."
Mr Johnson also said the leaked comments made by shadow health secretary Jon Ashworth were proof Labour was losing votes over its Brexit stance.
He said Britain could be led by Jeremy Corbyn on Friday morning, who he labelled a "Hamas-backing, IRA-supporting, anti-Semitism-condoning appeaser of the Kremlin".
The Prime Minister added: "If you doubt me, look at what his health spokesman said today, Jon Ashworth. He revealed that he thought his own leader is a security risk.
"And there is another fact Mr Ashworth mentioned which I think is even more terrifying when you look at the year ahead and the prospects for our country.
"Jon Ashworth made it absolutely clear that the reason Mr Corbyn is failing to persuade some people to vote for him is he is blocking Brexit - he won't get Brexit done.
"Don't just listen to me, look at what his health spokesman Jon Ashworth has said. He is absolutely right."
The incident prompted laughs on social media, where some called the stunt "cringey". Others said they enjoyed watching the stunt.