Nicola Sturgeon celebrates Jo Swinson losing her seat
13 December 2019, 04:51
Watch Nicola Sturgeon's jubilant reaction as she learns Lib Dem leader Jo Swinson has lost her seat to an SNP candidate.
Nicola Sturgeon was filmed celebrating after the SNP claimed the Westminster seat of Liberal Democrat leader Jo Swinson, with the victory display described as "unacceptably ungracious" by a Lib Dem MP.
The win for the SNP in Dunbartonshire East sees the Lib Dem's majority of 5,339 overturned.
Jo Swinson addressed supporters telling them it was "clearly a good night for the SNP."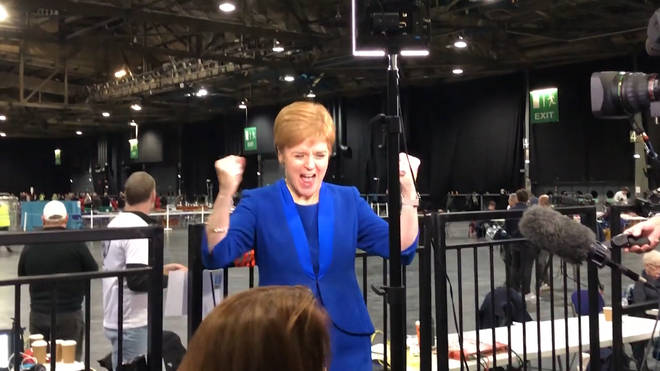 The Scottish National Party leader was about to give an interview to journalists when she learnt the news Ms Swinson had lost her seat.
As cheers echoed around the hall she was in Mrs Sturgeon looked at a monitor in front of her a huge grin broke out across her face and she shook both her fists in the air.
Brexit Party leader Nigel Farage described her response as "graceless and nasty" on Twitter.
While Liberal Democrat MP Layla Moran, who held on to Oxford West and Abingdon, said: "This is so unacceptably ungracious."
The Lib Dem leader said she lost her seat to the SNP after a "wave of nationalism" swept politics on both sides of the border.
Ms Swinson was ousted in East Dunbartonshire by the SNP's Amy Callaghan, who took just 149 votes more.
While the SNP won seats from Labour, the Conservatives and the Liberal Democrats in Scotland, south of the border Boris Johnson's Conservatives appeared to be on track for a large Westminster majority.
With her leadership of the Liberal Democrats now in question, Ms Swinson said she would make a further statement later on Friday.
Speaking at the count in Bishopbriggs, outside Glasgow, she said: "These are very significant results for the future of our country and I will be making further remarks later today.
"But let me say now, for millions of people in our country these results will bring dread and dismay and people are looking for hope.
"I still believe we as a country can be warm and generous, inclusive and open and that by working together with our nearest neighbours we can achieve so much more.
"Liberal Democrats will continue to stand up for these values that guide our Liberal movement - openness, fairness, inclusivity. We will stand up for hope."