LBC's Theo Usherwood explains why Nigel Farage is the Tory's 'bogeyman'
4 November 2019, 19:54
Boris Johnson has called for a general election in the hopes of securing a majority in the House of Commons - but could Nigel Farage's Brexit Party have the potential to derail his plans?
Currently, the Tory Party has deficit of 28 to make a simple majority, following a number of MPs being ousted from or quitting the party over repeated squabbles over Brexit.
Theresa May had hoped to secure some level of control over the House by making a deal with the DUP in 2017 but - once again - Brexit proved to be too divisive and the DUP repeatedly rebelled against her wishes.
Mr Johnson is keen to ensure the power is placed firmly back in the hands of his party, but LBC's political editor Theo Usherwood thinks the looming threat of the Brexit Party could have the potential to split the vote and derail Conservative hopes for a majority on 12 December.
He says: "From the Tory viewpoint Nigel Farage is the bogeyman who just will not go away.
"They insist he is wrong on Brexit and that by continuing to campaign in this election the Brexit party leader will actually stop Brexit from happening, but when you look at the detail of the Withdrawal Agreement Farage has a point.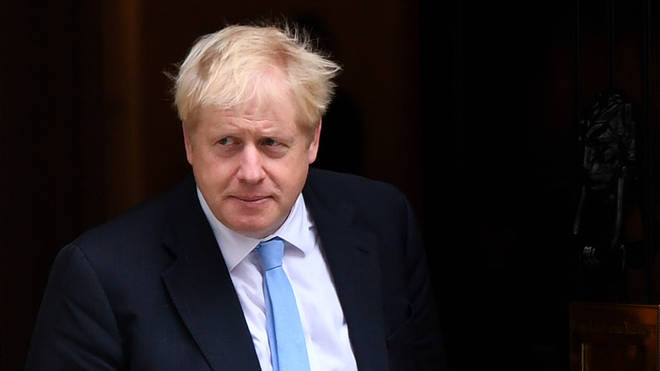 "If the UK wants a free trade deal with the European Union by the end of next year Boris Johnson must be prepared to accept EU rules and regulations.
'Boris Johnson is correct to say we will be able to sign free to sign trade deals with the likes of the United States, Australia and New Zealand.
"But we will not be able to sign deals where products imported into the UK fail to comply with EU standards, hence why Donald Trump in his phone call to Mr Farage last week said that some goods were precluded.
"It's also clear that Mr Farage is going to target Labour and Tory marginal seats in the north of England, Midlands and south Wales.
"But in a number of cases, notably in Workington on the Cumbrian coast, UKIP voters ended up returning to the Conservative Party 2017. In other words, Farage hurts the Tories, not Labour.
"Of course the Brexit Party still does not have to stand candidates if a deal can be done with the Conservatives.
"We will know soon enough as the cut off date for nominations is November 14 but Farage wants something in return for his party standing aside, namely a No-Deal Brexit.
"For the Tories that might just be a too higher price to pay if it means abandoning the middle ground."