EXCLUSIVE: Donald Trump's comments about him were "extraordinary", says Jeremy Corbyn
2 November 2019, 13:48
The Labour Party leader has reacted to Donald Trump's claims that he would be "so bad for the country" if he became Prime Minister.
Jeremy Corbyn has said he though Donald Trump's comments to Nigel Farage about him were "extraordinary".
Speaking exclusively to LBC, Jeremy Corbyn said of the President: "It's not his business who is elected to be Prime Minister of this country".
The Labour leader continued: "We live in a parliamentary democracy, and we're having an election campaign at the moment".
Mr Corbyn said that the president is "entitled to his opinion on the political direction his country takes or indeed any other takes".
However, he also commented directly to Mr Trump: "Look at what you're doing to the Paris climate change accord.
"Look at the environmental damage done around the world and also look at the success of our national health service.
"In comparison to the USA which spends more on health, yet excludes more people from health care.
"We have a service, not a market."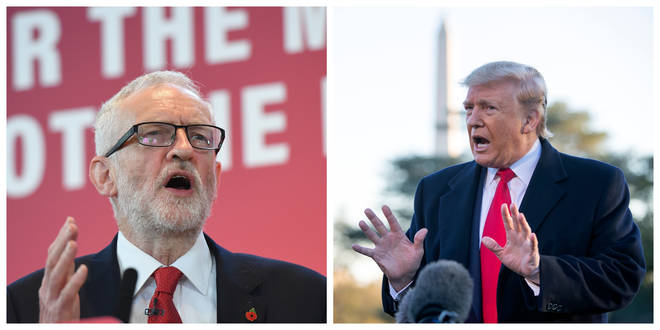 Speaking to Nigel Farage on LBC on Wednesday, the President said: "I have great relationships with many of the leaders, including Boris.
"He is a fantastic man and I think he is the exact right guy for the times and I know that you and him will end up doing something that could be terrific.
"If you and he get together, you know, unstoppable force and Corbyn would be so bad for your country.
"He would be so bad. He would take you in such a bad way. He would take you into such bad places."