Jeremy Corbyn accuses Boris Johnson of 'failing so spectacularly' on climate crisis
5 February 2020, 12:54
Labour leader Jeremy Corbyn has accused Boris Johnson of "failing so spectacularly to measure up to the scale of the climate crisis that this country and indeed this planet is facing."
In the first Prime Minister's Questions since the UK left the European Union Mr Johnson branded the comments "beyond satire", adding: "This is the first major economy in the world to have set a target of carbon-neutral by 2050."
In a dual over the dispatch box, the Labour leader raised the sacking of former UK climate and energy minister Claire O'Neill who was fired last week as the president of the COP26 summit, which will be held in Glasgow in November.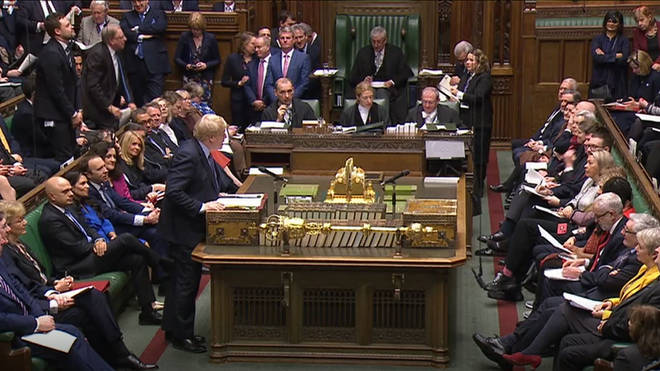 The comments come after David Cameron rejected Boris Johnson's offer to lead the 26th United Nations Climate Change Conference.
Mr Corbyn noted that two former Conservative leaders had turned down the job, joking: "Maybe it could be third time lucky," as he suggested former Tory leader Sir Iain Duncan Smith for the role.
The Prime Minister said: "It's an absolutely fantastic thing, we are leading the world in our ambitions and we will have a wonderful summit in Glasgow."
Mr Corbyn quoted Ms O'Neill's own words in the Commons arguing "there has been a huge lack of leadership and engagement from this Government".
Responding, Mr Johnson said: "If you look at what this Government is achieving and already has achieved on climate change it is quite phenomenal."
He dismissed Mr Corbyn's words, saying: "All he would produce I'm afraid is a load of hot air."
The PM then accused the Opposition leader of wanting to "confiscate people's cars and prevent them from having foreign holidays."
Bringing up the subject of press freedom, Mr Corbyn said it was "no wonder the Prime Minister is shutting newspapers out of Number 10'' as he highlighted criticism of his Government.
Mr Johnson replied by saying Labour had blamed the media for the party's disastrous election campaign.
"I don't blame them - I'm a journalist, I love journalism, and I think the people of this country don't blame the media," he added. "They can see the media do their best to represent the reality."
Labour leadership hopeful Sir Keir Starmer wrote to Cabinet Secretary Sir Mark Sedwill, calling for him to investigate the "deeply disturbing" move which he said was "damaging to democracy".
He argued that the media's access to the PM's chief negotiator "should not be determined by political favouritism".