Nicola Sturgeon: An independent Scotland is "within touching distance"
2 November 2019, 16:51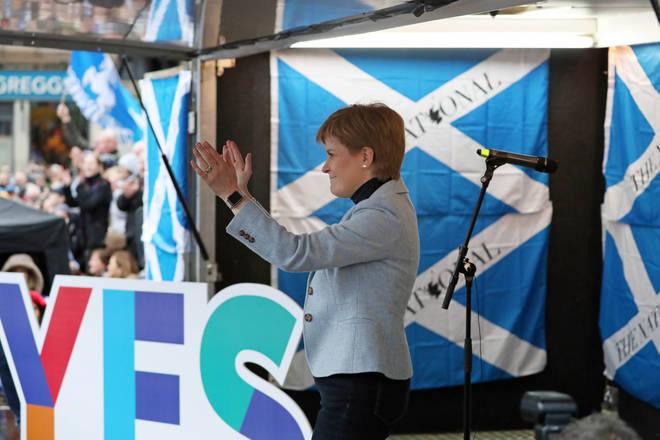 "We must take our future into our hands and become an independent country," Nicola Sturgeon has told a pro-independence rally in Glasgow.
Thousands of independence supporters have heard Nicola Sturgeon demand "the right to choose a better future for our country."
The first minister told the major rally in Glasgow the time would come to break away from the "chaos of Westminster" in a second independence poll next year.
The SNP leader described the upcoming election on December 12 as "the most important election for Scotland in our lifetimes".
She said, "the future of our country is on the line" and that suggested Scotland can escape Brexit, if people voted for the SNP in the general election.
Ms Sturgeon told the #indyref2020 rally gathered in George Square: "There is no doubt whatsoever that Scotland stands at a crossroads moment.
"Down one path is a future that will be dictated to us by the likes of Boris Johnson. A future where tax cuts for the wealthiest take priority over our people and our public services. That is not the Scotland that we want."
In her powerful speech, she stressed that "independence is within touching distance"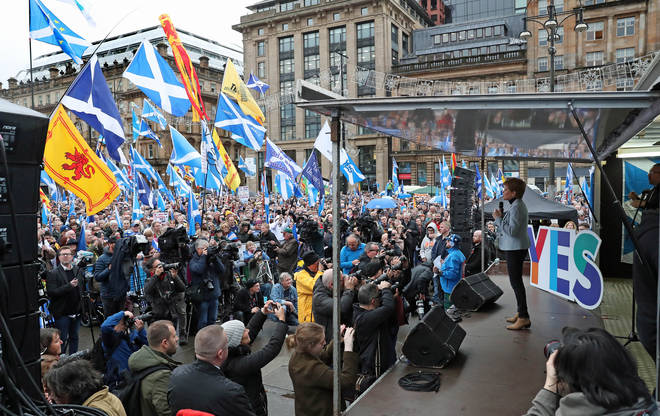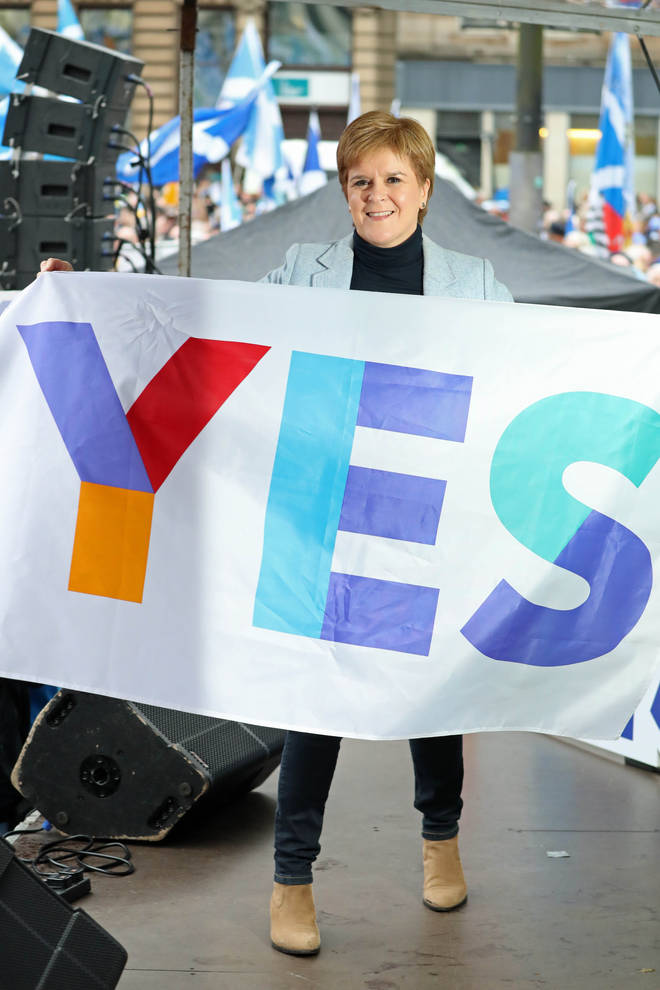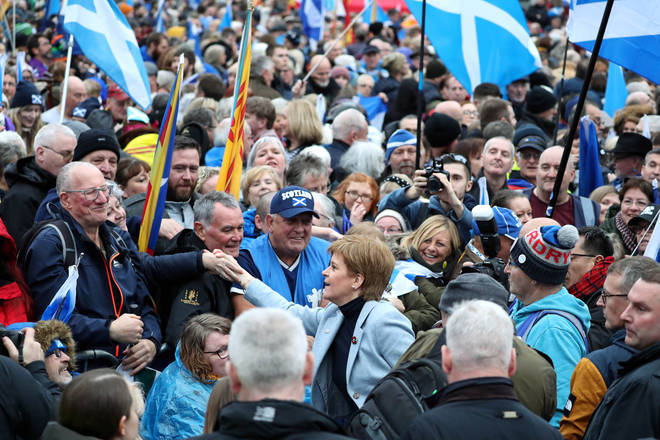 Nicola Sturgeon said during the rally that she wants to know why Jeremy Corbyn and Boris Johnson won't debate the issue of independence.
Sending a message to both the Conservative and Labour leader, Ms Sturgeon asked: "Why are you so scared to have real debates in this election?
"My message and my challenge is this - I'll debate either of you, I'll debate both of you, anytime, any place. So stop running scared and come and justify why Scotland should not be independent."
Labour leader Jeremy Corbyn has said a new Scottish independence referendum was not "desirable or necessary".
The Conservatives and the Liberal Democrats also oppose a further vote.
Nicola Sturgeon's speech marks the first time she had spoken at an independence rally since 2014.
The SNP leader also had a message to European nationals, saying: "The Scotland we seek is open, welcoming, diverse and inclusive, and no Tory is ever going to be allowed to change that".
She described Scotland as "a country that invests in our people, a country that invests in our public services", as well as "a country that can build a better future."
Ms Sturgeon's speech came after she confirmed that she would send a letter "before Christmas" to whoever is in 10 Downing Street, requesting the Scottish Parliament is granted powers to hold another independence referendum.
The rally prompted a counter demonstration by groups of unionist supporters who waved flags and blew whistles amongst Scottish independence supporters.