Diane Abbott Opens Up To LBC Presenter About Extensive Abuse
19 February 2017, 09:29 | Updated: 14 November 2017, 11:07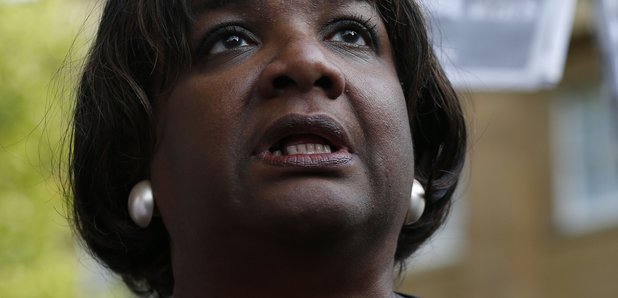 'I'm told I'm black filth and I should be hanged' - Diane Abbott tells LBC about the abuse she receives as a black, female MP.
The Labour politician opened up to Anushka Asthana, who was standing in for LBC Presenter Beverley Turner, about the extensive abuse she receives.
Ms Abbott recently wrote a piece for the Guardian after much persuasion from Anushka, who is the joint Political Editor of the publication, and here she speaks out further about just some of the sexist and racist abuse she is subjected to.
Anushka asked Diane why it has taken her so long to open up. Diane said: "I didn't want to be a victim. I just wanted to get on and do the job, but just in recent weeks, it's all become so awful.
"And also, quite frankly, when Jo Cox died, obviously my first thought was for her children and her husband, and then her friends and family, and the people of Batley and Spen, and we'd lost a tremendous MP.
"But I also thought, maybe you can't shrug off these death threats anymore...maybe something can happen.
"Since then, I try not to walk on my own anymore. I don't drive. I used to walk around Hackney on my own, I don't do that anymore, and I am getting new security alarms on my house.
"It's just a horrible atmosphere if you're out there, particularly if you're a woman MP, and particularly if you're a black MP."
Anushka then asked: "What makes you say that?"
Diane said: "First let me say, I have no problem with who want to argue with me, challenge my ideas, criticise my politics. That's part and parcel of being a politician.
"But if you're a woman you get a kind of abuse, the rape threats, telling you you're ugly, telling you, you know, you get a kind of abuse that male MPs just do not get. They just do not get."
She added: "I'm finding it increasingly difficult because it gets in your head, it gets in your head, and as I say, in the current climate you start to think 'well, maybe maybe, these threats, maybe they're real?'."
Anushka then asked the MP whether this abuse makes her re-think life as a public figure.
The Labour politician responded: "There have been moments when I nearly gave up...a few years ago...it was some horrible thing in the newspaper."
She added: "People nowadays think they can print things which just aren't true. And unless you're a sort of millionaire with a lot of expensive lawyers, it's sometimes quite hard to do anything about it.
"I remember I thought 'I just can't take this anymore, I just can't take this, I can't take the abuse, I can't take the made up stories in the press."
She told Anushka that fellow Labour MP Keith Vaz, who was elected into parliament at the same time as Ms Abbott in 1987.
The MP continued: "He said to me: "Diane, you have forgotten what we came through to get here. You've forgotten."
"And he gave me some practical advice around my plight and I soldiered on."
She added: "I just felt helpless and hopeless, and he just made me pick myself up."
Diane went onto explain that the anonymity that comes with online communication has led to an increase of abuse aimed at herself and her fellow MPs, allowing people to say things they may not say in real life.
Anushka then asked the MP about the kind of reaction she got from people after Ms Abbott initially missed Article 50 vote because of a migraine.
She said: "People are entitled to be angry, but they're not entitled to say that I am black filth and I should be hanged. Do you see what I mean?
"There's a difference between saying 'I don't like what Diane Abbott did' or 'I don't agree with her on some things, and just this really angry racist abuse."