Labour MP Jo Cox Dies After Being Shot In Street
16 June 2016, 14:09 | Updated: 29 July 2016, 13:29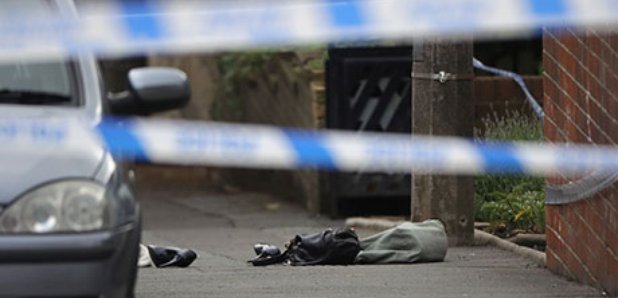 Labour MP Jo Cox has died after being shot in an attack in her constituency near Leeds.
The MP for Batley and Spen was holding a weekly surgery in her constituency when the incident happened.
An eyewitness report stated she was shot three times, including one "around the head area".
A 52-year-old man has been arrested over the incldent.
A witness suggested that the shooter was heard to shout "Britain First", but the controversial group has told LBC they had no involvement in the incident.
Eyewitness Hithem Ben Abdallah told the Press Association: "There was a guy who was being very brave and another guy with a white baseball cap who he was trying to control and the man in the baseball cap suddenly pulled a gun from his bag.
"He was fighting with her and wrestling with her and then the gun went off twice and then she fell between two cars and I came and saw her bleeding on the floor.
"The man stepped back with the gun and fired it and then he fired a second shot, as he was firing he was looking down at the ground."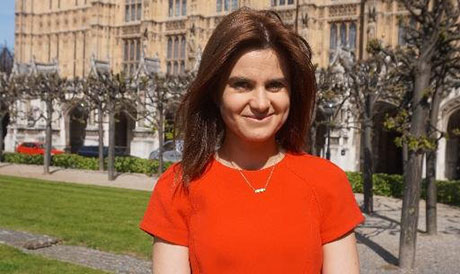 Her hsuband Brendan Cox said: "Today is the beginning of a new chapter in our lives. More difficult, more painful, less joyful, less full of love. I and Jo's friends and family are going to work every moment of our lives to love and nurture our kids and to fight against the hate that killed Jo.
"Jo believed in a better world and she fought for it every day of her life with an energy, and a zest for life that would exhaust most people.
"She would have wanted two things above all else to happen now, one that our precious children are bathed in love and two, that we all unite to fight against the hatred that killed her. Hate doesn't have a creed, race or religion, it is poisionous.
"Jo would have no regrets about her life, she lived every day of it to the full."
Temporary chief constable for West Yorkshire Dee Collins told a news conference: "I am now very sad to have to report that she has died as a result of her injuries.
"Jo was attacked by a man who inflicted serious and sadly, ultimately fatal injuries. Subsequently there was a further attack on a 77-year-old man nearby who has sustained injuries that are non-life threatening.
"This is a very significant investigation with a large number of witnesses being spoken to at this time.
"It's a large and significant crime scene and a large police presence with a full investigation is under way to establish the motive for this attack."
Sharon Jones, who was at the Leeds General Infirmary where Ms Cox was taken, told LBC: "I was standing outside and suddenly all hell broke loose. Police cars were arriving, police video vans.
"There were lots and lots of police with very big guns."
Ms Cox was part of the Stronger In campaign for the EU referendum. Both Referendum campaigns have suspended campaigning following the shooting.
Fellow MPs have sent their condolences to Ms Cox's family. Labour leader Jeremy Corbyn said: "The whole of the Labour Party and Labour family - and indeed the whole country - will be in shock at the horrific murder of Jo Cox today.
"Jo had a lifelong record of public service and a deep commitment to humanity. She worked both for Oxfam and the anti-slavery charity, the Freedom Fund, before she was elected last
year as MP for Batley and Spen – where she was born and grew up.
"Jo was dedicated to getting us to live up to our promises to support the developing world and strengthen human rights – and she brought those values and principles with her when she
became an MP.
"Jo died doing her public duty at the heart of our democracy, listening to and representing the people she was elected to serve. It is a profoundly important cause for us all.
"Jo was universally liked at Westminster, not just by her Labour colleagues, but across Parliament.

"In the coming days, there will be questions to answer about how and why she died. But for now all our thoughts are with Jo's husband Brendan and their two young children. They will grow up without their mum, but can be immensely proud of what she did, what she achieved and what she stood for.
"We send them our deepest condolences. We have lost a much loved colleague, a real talent and a dedicated campaigner for social justice and peace. But they have lost a wife and a mother, and our hearts go out to them."
Prime Minister David Cameron said: "This is absolutely tragic and dreadful news and my thoughts are with Jo's husband Brendan, their two children and wider family. We've lost a great star. She had a big heart and people are going to be very, very sad at what has happened.
"She was a very strong campaigning MP. She had a great track record of caring about refugees and had taken a big interest in how we can look after Syrian refugees and do the right thing in our world. She was a star for her constituents, a star in Parliament and a star right across the House.
"It's right that we are suspending campaigning activity in this referendum and everyone's thoughts will be with Jo's family and her constituents at this terrible time."
Downing Street said flags across Whitehall will be lowered to half mast.