Sadiq Khan Freezes TFL Fares Until 2020
18 November 2016, 10:34 | Updated: 18 November 2016, 10:48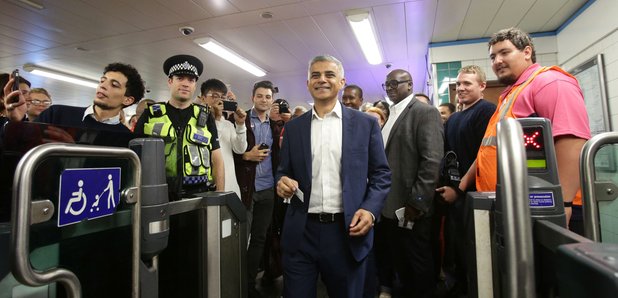 Mayor of London Sadiq Khan has frozen pay as you go fares on TFL-run lines until 2020, he confirmed on Friday.
The freeze means that Londoners travelling on a bus, tram, tube or overground, where TFL fares apply, will pay the same pas as you go price as they are currently paying until 2020.
Fares on the Emirates Airline and hire and access for Santander Cycles will also be frozen. Sadiq said: "Our TfL fares freeze will save an average household £200 over the next four years, putting money back into people's pockets and playing an important role encouraging more Londoners onto public transport."
However, the fares freeze will not apply to travel cards and daily and weekly caps on Oyster cards, which apply to all train services in the capital, which are set by the government in agreement with train service operators. These fares are due to rise in line with inflation.
Sadiq called on the government to join him in freezing fares, taking a swipe at the chaotic services being delivered by some of the train operators into the capital.
"I'm now demanding that the Government follows my lead and freezes fares on London's suburban rail routes, where passengers have been hit by unacceptable delays, cancellations and overcrowding."
"It's simply not right that London's rail passengers face another fares hikes caused by the Government next year - the onus is on the Government to ensure every passenger in London gets the fares freeze they deserve."