Ukip's Steven Woolfe "Conscious And Recovering" After Altercation At Party Meeting
6 October 2016, 14:20 | Updated: 10 October 2016, 11:31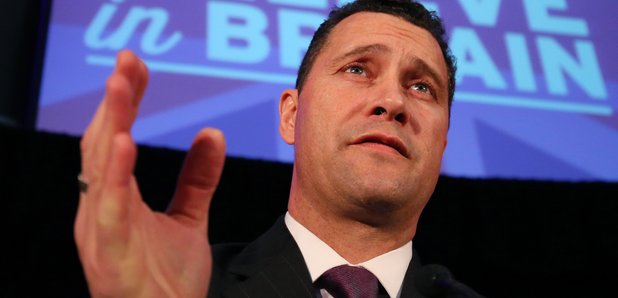 Ukip leadership candidate Steven Woolfe has been rushed to hospital with reported "bleeding on the brain" after collapsing at the European Parliament, following a heated "altercation" with a Ukip colleague.
Senior Ukip officials are being quoted as saying that Woolfe is now "recovering" in hospital, with party leader Nigel Farage saying he had spoken to the MEP on the phone and he was now "mildly better".
Earlier, Farage released a statement confirming the incident, saying: "I deeply regret that following an altercation that took place at a meeting of Ukip MEPS this morning that Steven Woolfe subsequently collapsed and was taken to hospital.
"His condition is serious."
(CAUTION: Graphic image below)
ITV News released this shocking image apparently showing Woolfe on the ground after collapsing:
Ukip MEP Jonathan Arnott spoke to Shelagh Fogarty soon after the incident:
Some political reporters are saying that Woolfe was punched in the face by a party colleague angry at rumours of Woolfe defecting.
The confrontation happened on a walkway between the parliament chamber and MEPs' offices.
Ukip's party statement reads: "Ukip spokesman Steven Woolfe MEP was taken suddenly ill in the European Parliament building in Strasbourg this morning.
"He has been taken to hospital in the city and he is undergoing tests."
Woolfe is the favourite to replace Diane James as Ukip leader. His party colleagues - and politicians from across the spectrum - have been sending messages of support:
Shocked and appalled to hear about what happened to Steve Woolfe. Thinking of him

— Douglas Carswell MP (@DouglasCarswell) October 6, 2016
No one should tolerate this violence. I hope Stephen Woolfe makes a swift recovery

— Jess Phillips MP (@jessphillips) October 6, 2016