Who Is Anne-Marie Waters? Meet The Favourite To Be Next Ukip Leader
29 September 2017, 07:36 | Updated: 29 September 2017, 07:50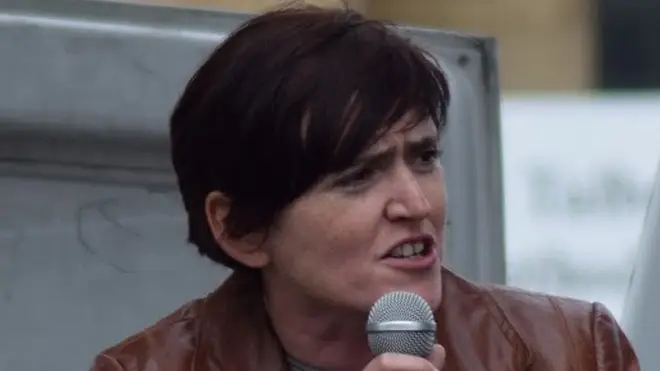 Ukip name their new leader today - and anti-Islam candidate Anne-Marie Waters is the favourite to win.
The vote is expected to be a two-way battle between the controversial Ms Waters and former London Mayoral candidate Peter Whittle to replace Paul Nuttall, who resigned following the General Election.
So who is Anne-Marie Waters? Here is everything you need to know.
A former Labour activist, Ms Waters founded the anti-Islam campaign groups Sharia Watch and PEGIDA.
Her candidacy is backed by former English Defence League leader Tommy Robinson, but former leader and LBC presenter Nigel Farage is fiercely opposed to her leadership.
Ms Waters has previously labelled Islam 'evil' - and when Nick Ferrari asked why she doesn't like Islam, she said: "I don't like Islam, it's perfectly clear.
"It's not the people, it's the religion itself and what it teaches. I don't like a religion that says that I, a woman, am inferior and should be beaten."
When Ms Waters announced she was standing for the leadership, deputy party whip Mike Hookem quit over the decision.
He told LBC's Ian Payne that he had campaigned for years to show that Ukip is not a racist party, and that if Ms Waters is chosen, her election would contradict that.
He said: "We're not a racist party, we're a liberarian party. I don't agree with these views and I will not condone them.
"The people she associates with are from the far right. I don't believe she should be in the party as a member.
"She wasn't allowed to stand in the Westminster seat, she wasn't allowed to stand for a Police and Crime Commissioner. So how can you allow her to stand for the top job?"
Nigel Farage has been critical of her hardline position on Islam, but he has categorically denied he would start a new party if she is elected.
Mr Farage said: "One of the candidates in UKIP's upcoming leadership election, the most controversial of them, is Anne Marie Waters who takes a very hardline position on Islam
"The story is if she becomes UKIP leader then I'm walking out and forming a new, breakaway, splinter party which I will lead. Can I just tell you, all those articles you read in the newspapers, every single one, is wrong. I won't be."
If Waters wins she will probably oversee a fracturing of the party, with almost all its MEPs saying they would resign the whip if that happens.