Who Is Asia Bibi? The Christian Pakistani's Blasphemy Case Explained
13 November 2018, 16:19 | Updated: 28 October 2019, 15:53
Christian Pakistani Asia Bibi has been freed after spending eight years on death row for blasphemy, but who is she?
The husband of a Christian Pakistani woman who was accused of blasphemy has asked the Prime Minister to grant them asylum in Britain.
But the mother-of-three has faced calls for her life amid widespread protests after she was acquitted on the 3rd November.
Pakistan's Prime Minister Imran Khan called for calm after the protests broke out across the country.
Why Was Asia Bibi On Death Row?
Asia Bibi was sentenced to death for blasphemy in 2010 after being accused of insulting Islam's Prophet Muhammad in a dispute with neighbours.
Three woman said they had refused to drink from a bucket she had touched because she was not Muslim.
She was found guilty and sentenced to death at trial court, and later lost an appeal at the Lahore High Court in October 2014, but has always maintained her innocence.
She has spent the majority of the last eight years in solitary confinement.
Has Pakistan Stopped Asia Bibi Leaving The Country?
The Government of Pakistan has agreed to stop Asia Bibi leaving the country to try to calm the unrest in the wake of her release.
A deal with Islamist parties ended three days of protests up and down the country included a concession to begin court proceedings that would put Asia Bibi on the country's no-fly list.
Where Is Asia Bibi Now?
The Information Minister Fawad Chaudhry confirmed that Asia Bibi is still in Pakistan, and is currently being held at an undisclosed location for her safety, but Islamists have warned the authorities against taking her out of the country.
Her husband has asked Theresa May for asylum in Britain, and other countries have already offered sanctuary to Mrs Bibi and her family.
Why Has Boris Johnson Offered Support To Asia Bibi?
The former Foreign Secretary has urged the Home Secretary Sajid Javid to grant asylum to Asia Bibi and her family in the United Kingdom and not be put off by concerns it could lead to unrest or attacks on UK embassies.
In a letter by Boris Johnson to Mr Javid, he said: "I cannot believe for a minute that these are considerations which should be allowed to prevail."
He added: "I am well aware, as a former Foreign Secretary, of the constant threat to our overseas missions, but we cannot allow the threat of violence to deter us from doing the right thing."
Other countries are thought to have already offered sanctuary, including Canada - where Prime Minister Justin Trudeau said that his government as holding talks with Pakistan over the issue.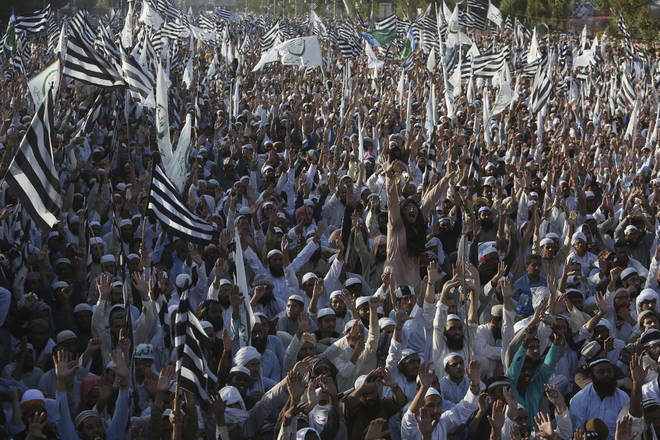 What Is Blasphemy Law In Pakistan?
Blasphemy law in Pakistan carries a mandatory death penalty, and many hardline religious groups are opposed to it being amended.
Those accused of blasphemy are incarcerated immediately, denied bail in most cases and put in solitary confinement.
More than 1,300 people have been charged in the last 30 years and many of them have been murdered before their trial is even complete.