PM's Social Care U-Turn Like "Nothing Seen Before" During Election Campaign
22 May 2017, 17:06 | Updated: 28 October 2019, 15:53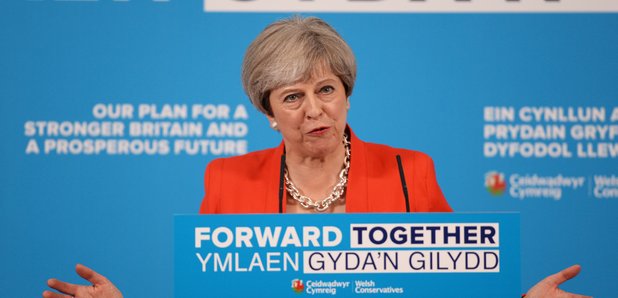 Theresa May has altered her controversial social care policy announced in the Conservatives' manifesto last week. LBC's Political Editor Theo Usherwood gives his take on the change:

We were told by the Tories that this new cap on social care payments was not, repeat not, a U-turn. Except that was a tyre-screeching U-turn, the like we have never seen before in a general election campaign.

On Friday, the health Secretary Jeremy Hunt told us the Tories would ditch their policy of capping care fees. On Sunday, the Work and Pensions secretary Damian Green said there would be no changes to Theresa May's manifesto, launched in Halifax.

But as he was speaking, Conservative candidates out knocking on doors across the country were facing abuse from angry and worried pensioners who feared they could lose their home.

Indeed, I saw Boris Johnson – the foreign secretary – cornered on Friday afternoon as he was out campaigning out in West London.

"As long as you're alive, you're alright," bellowed Boris. He was quite right.

It's when you die, and your partner dies, that the state will ask the benefactors of your will, in many cases your children, to pay-up.

The DFS – buy now, pay later – model to social care is already in place for those who need to go into a nursing home.

But in living rooms across the country, there is nothing short of a crisis. Age UK estimates around 370,000 receive home care, while another 1.2 million pensioners over 65 are believed to require care with essential daily activities but go without.


If you take two pensioners, one with an average priced house at £215,000, and another with a property worth £750,000, and both require £100,000 of care, the first will see the value of their estate of 46%, while the second will see face a tax of just 13%.


Now today's U-turn is being described by Mrs May's aides as a tweak. But it's far more than that. Last week, Jeremy Hunt, the health secretary, insisted the party would not be sticking with the party's previous policy of a cap on care fees at £72,000, nearly double the £35,000 limit proposed by the Dilnot Commission.

And on Sunday, the Work and Pensions Secretary Damian Green, insisted the Tories would not be back-tracking.

So will this U-turn work?

Well, Mrs May hasn't actually said what the cap is. And as things stand, the cap will be universal – it won't be graduated. Therefore to many, it will remain distinctly unfair. In short, you could have assets totalling £800,000 and you would pay the same as someone with assets of only £200,000.

That disparity has not changed.

Meanwhile, Labour has said that it will pay for improved social care by reversing the Conservatives' plans on inheritance tax.

Currently, it is levied at a rate of 40% on the value of an estate above the tax-free threshold of £325,000. Married couples and civil partners are entitled to double the allowance to £650,000. Now the Government has added a "family home allowance", which will hit £350,000 by 2020. That will mean estates worth £1m will be passed on tax-free in three year's time. The total cost to the Treasury is £1 billion, which – if Labour wins on June 8th – will go into social care.

The Lib Dems have said they will add an extra 1p on to the basic, higher and additional rates of income tax to pay for the NHS and social care. They say their plans would raise £6 billion.