Taxi Drivers v Uber: What Is The Row About?
11 June 2014, 10:33 | Updated: 28 October 2019, 15:53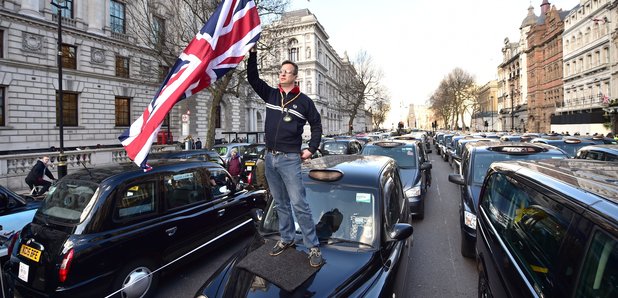 Taxi drivers have promised to bring central London to a halt as part of a protest against new app Uber.
Cabbies claim the app is operating illegally in the UK and are angry at a proposed partnership with Transport for London.
Julia Hartley Brewer spoke to both sides of the row - Grant Davis from the London Cab Drivers Club and Jo Bertram from Uber - to find out why.
How Uber Works:
- When you open the app, your iPhone uses GPS to establish your position and shows you all the available Uber cars in your area and how long they can take to get to you.
- You request a car and Uber will assign you a car, showing you the driver's name, photo and registration.
- The price is established when you leave the car, based on distance and time spent on the journey. This is automatically taken from your account.
- Drivers can be rated after each journey.
Black Cab Drivers are unhappy about:
- Your mobile phone counts as a meter, which is illegal for minicabs, they claim. TfL are currently asking a court whether this is the case.
- The Uber cabs are licensed as minicabs, but acting as black cabs, drivers claim.
- Anyone can register to be an Uber driver, so there is no vetting on drivers. Cabbies say this will affect safety and they won't have done The Knowledge.
- Uber has already been banned in Belgium for not being licensed.
Uber argue that:
- When you book a cab, the car's details and driver's name and photo are sent to you, so you know exactly who is picking you up.
- All minicabs are licensed by TfL.
- They believe the payment method on their mobile phone is legal.