Who Is Anjem Choudary? The Islamist Hate Preacher Released From Prison
19 October 2018, 12:32 | Updated: 28 October 2019, 15:53
Islamist hate preacher Anjem Choudary has been released from jail after serving half of his five-and-half-year sentence.
He was freed from Belmarsh Prison in London early on Friday morning after being locked up in 2016 for inviting support for Isis.
But, the 51-year-old's release does not mean he can do now as he pleases.
This is all you need to know about Britain's most notorious hate preacher.
Who is Anjem Choudary?
British-born Choudary is from Ilford, east London. He has been described as one of the UK's most prolific terrorist recruiters.
The 51-year-old father-of-five is linked to hundreds of people who left Britain to fight in the battles of Iraq and Syria.
He trained as a solicitor but is best known as a leading figure of the now banned group Al-Muhajiroun.
The network advocated an extreme form of Islam and Sharia Law, with one of its supporters being London Bridge attacker Khurram Butt.
Why was Anjem Choudary jailed?
Despite links to known jihadis, Choudary had always managed to stay just on the right side of the law.
However, in July 2016 he was convicted after authorities mounted a successful prosecution against him.
They used dozens of extracts from speeches and sermons he had delivered over a number of years to build up their case.
At the time of his sentencing, he had been linked to 15 terror plots dating back almost 20 years.
He was jailed for five-and-a-half years for inviting support for Isis.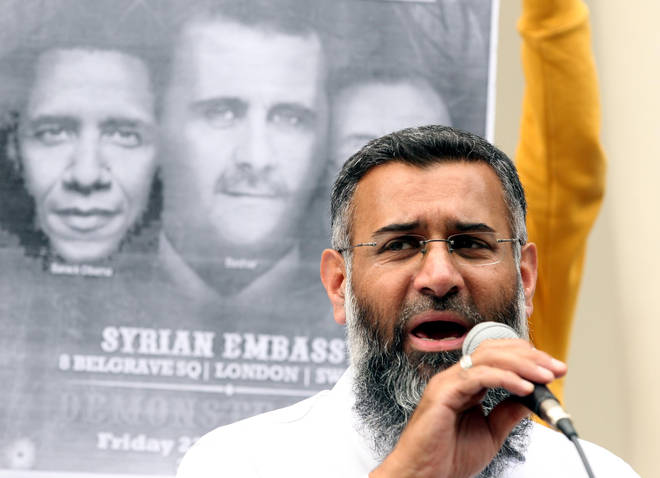 Why has he been released?
The hate preacher was released on Friday after reaching the halfway point of his sentence - but will spend the first six months in a probation hostel.
He will remain on "licence" for this rest of his sentence.
The measure attempts to reintegrate convicts and reduce the risk of reoffending.
Police and MI5 will be among a number of agencies involved in monitoring him - estimated to cost around £2m a year.
In total, he will be subject to 25 conditions, which include:
- Wearing a GPS enabled electronic tag
- Night-time curfew
- Requirements to stay within a set area
- Only attending pre-approved mosques
- Ban on contacting individuals he knows without prior approval
- Ban on contacting other extremists without prior approval
- Restrictions on the use of mobile devices and the internet
If he breaks any of them, he could face an immediate return to custody.
In a separate measure, his name has been added to a UN sanctions list, which means he is subject to an assets freeze and travel ban.