MP Tracy Brabin: I've been branded 'slapper' over off-the-shoulder dress in Commons
5 February 2020, 13:49
A Labour frontbencher has said she has faced a barrage of trolling on social media after wearing an off-the-shoulder dress in the House of Commons.
MP Tracy Brabin appeared in the Commons last night wearing the off-the-shoulder black number where she raised a point of order on Downing Street's decision to order senior journalists from some of the UK's major news organisations to leave before a briefing on Boris Johnson's Brexit plans.
But she hit back on social media today, saying: "Hello. Sorry I don't have time to reply to all of you commenting on this but I can confirm I'm not.... A s**g, Hungover, A tart. About to breastfeed, A slapper, Drunk, Just been banged over a wheelie bin" she made the remark online after apparently being subjected to a tirade of unpleasant remarks.
Ms Brabin appeared on James O'Brien's show on LBC today where she said: "It was my obligation to [push back] for other women.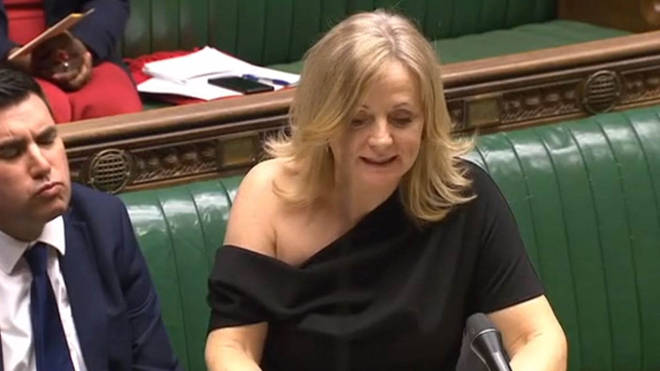 "It is absurd but #everydaysexism. I was at the dispatch box with a really important point of order about press freedoms and people want to talk about my shoulder. It is always about how we are, how we present ourselves rather than what we say.
"It is a challenge for women in politics, it certainly is."
"It's bonkers, especially when there are other examples of disrespect, such as Jacob Rees-Mogg asleep on the front bench with his feet up."
Ms Brabin, the Shadow Culture Secretary, was filmed earlier in the evening wearing the same dress at a music event in central London.
Speaking on Lorraine on ITV this morning, reiterated that the incident was 'every day sexism' and said she felt she should respond to the abuse because women 'around the world don't have that opportunity to push back against those people that patronise them.'
Piers Morgan said it was "not sexist to think this outfit was a tad inappropriate for Parliament."
Footage from the Commons on Monday shows the shadow Culture Secretary hobbling to the despatch box before making her point of order on Monday evening. 
She is on crutches after breaking her ankle when she fell down the steps of a bus last month.