Bizarre Moment Trump Flirts With Reporter During Call With Taoiseach
28 June 2017, 07:44 | Updated: 28 June 2017, 07:55
This is the peculiar moment President Trump called a "beautiful" Irish reporter over to him and says she has a "nice smile" during a call with new Irish Taoiseach Leo Varadkar.
RTE Reporter Catriona Perry was in the Oval Office to watch the President's first phone call with his Irish counterpart.
And it was a far more relaxed affair than anyone imagined it would be.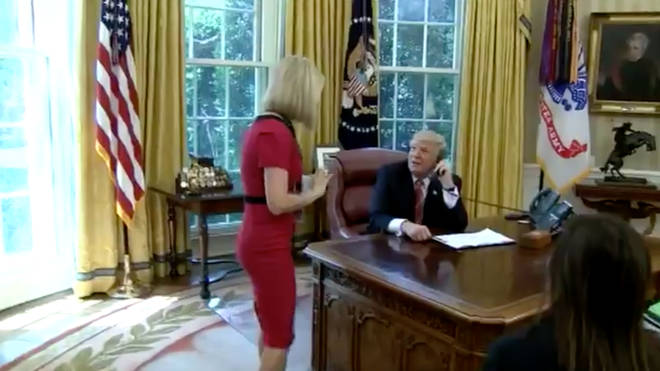 Mr Trump said, "Well, we have a lot of your Irish press watching us," before asking Ms Perry to join him at his desk.
He then said to her, "And where are you from? Go ahead. Come here, come here. Where are you from?
"We have all of this beautiful Irish press. She has a nice smile on her face so I bet she treats you well."
Ms Perry posted the video on her Twitter feed, labelling it a "bizarre moment".