Is Donald Trump Using A Fake Melania? Conspiracy Theory Sweeps The Internet
19 October 2017, 07:22 | Updated: 19 October 2017, 07:24
A conspiracy theory that Donald Trump is using a double for wife Melania is sweeping the internet.
The "First Lady" was standing by her husband as they had a tour of the headquarters of the US Secret Service Training Center in Maryland wearing oversized sunglasses.
And entrepreneur Joe Vargas claimed it was not actually Melania, but a stand-in.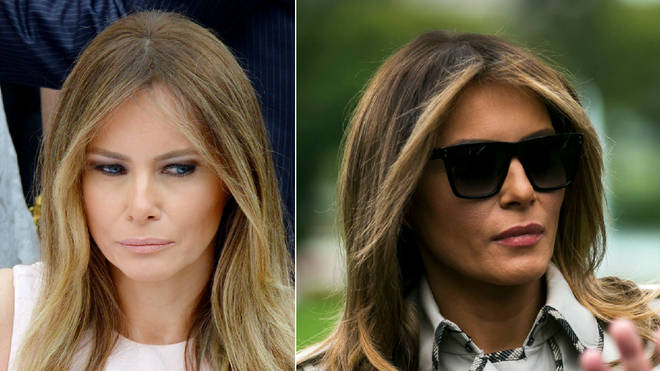 Among the reasons he cites for claiming it is not Melania are that her nose appears to be a different shape. And he said he was suspicious when the President said the lines: "My wife Melania, who happens to be right here."
In a tweet which has been shared more than 50,000 times, Mr Vargas tweeted:
This is not Melania. To think they would go this far & try & make us think its her on TV is mind blowing. Makes me wonder what else is a lie pic.twitter.com/JhPVmXdGit

— BuyLegalMeds.com (@JoeVargas) October 18, 2017
I initially didn't notice, but thought it was strange when he said "my wife Melania, she's right here" to try & convince media it was her.

— BuyLegalMeds.com (@JoeVargas) October 18, 2017
The claims spread across the internet and #FakeMelania was a top trending topic around the world.
Not everyone in convinced however. The Washington Post ran an article headlined: "We've ID'd the mystery woman in those Melania-Trump-impostor rumors. (It's Melania Trump.)"