Donald Trump Tweeted "Covfefe" And The Internet's Response Was Hilarious
31 May 2017, 08:30 | Updated: 31 May 2017, 11:19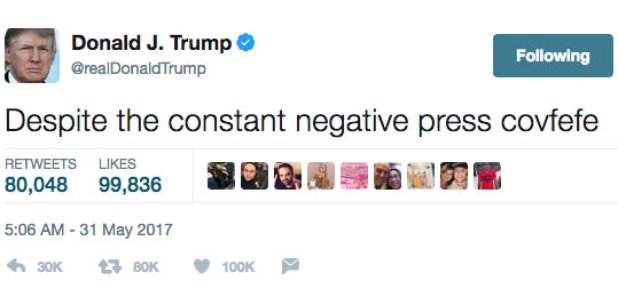 Donald Trump baffled the internet by tweeting the word "covfefe" - and the internet's response was brilliant.
It all started when the President of the US tweeted this shortly after midnight Washington DC time.
Despite the constant negative press covfefe

— Donald J. Trump (@realDonaldTrump) May 31, 2017
People were confused as to what he meant - and Twitter responded with a series of hilarious jokes. We've rounded up the best of them.
Note from Ivanka proves worst fears about #covfefe. pic.twitter.com/4cusiWnRBR

— David Schneider (@davidschneider) May 31, 2017
This is #covfefe translated from Russian. pic.twitter.com/1Im7ZzLO0Y

— Kristina Wong ❄️ (@mskristinawong) May 31, 2017
No covfefe is better than a bad covfefe

— Tony Cowards (@TonyCowards) May 31, 2017
To be fair, there's also been some positive covfefe https://t.co/Sa4yKVHESc

— Peter Serafinowicz (@serafinowicz) May 31, 2017
Now this is what the internet should be about. pic.twitter.com/959KUUNmMJ

— Stig Abell (@StigAbell) May 31, 2017
#covfefe pic.twitter.com/Qu3tQshEIZ

— Andrew Bloch (@AndrewBloch) May 31, 2017
When he woke up, The Donald had a glorious response though.
Who can figure out the true meaning of "covfefe" ??? Enjoy!

— Donald J. Trump (@realDonaldTrump) May 31, 2017