Trump Fans Share Video Of "Fraud" Voting Machine
8 November 2016, 20:40 | Updated: 8 November 2016, 23:51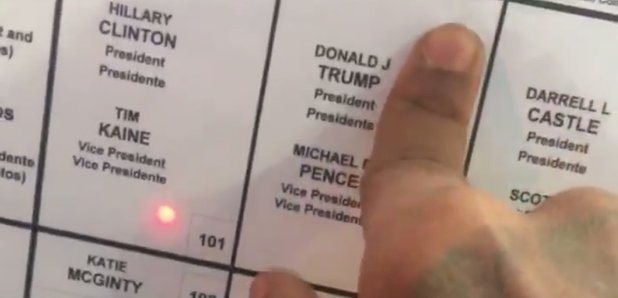 A video showing a voting machine that would only allow Democrat votes has been gone viral amongst Trump fans - even though it was quickly fixed by staff at the polling centre.
Aedonis Bravo was trying to vote for Donald Trump in Philadelphia, but as his video shows, the machine wouldn't register it.
(Twitter/Aedonis Bravo via Storyful)
Authorities say that reports of similar errors in a small number of counties were dealt with quickly and no erroneous votes were recorded.
WATCH: Iain Dale Caller Drops Some Serious Conspiracy Theories About Clinton
Some Trump fans have repeatedly claimed that they're worried about the election being rigged:
Another coincidence?
REPORT VOTER FRAUD: 888 486 8102 (Being Patriotic hotline) or 855 976 1200 (Trump Lawyer Team)https://t.co/tWhNJWUBZd pic.twitter.com/SghDI0a3Sa

— March for Trump (@March_for_Trump) November 8, 2016
Have already seen 4 tweets and 3 Facebook posts from trump supporters claiming it's rigged before the votes even been counted.

— cartoon avi (@colinhateswater) November 8, 2016
But Clinton fans are less than impressed with the claims:
only 1 more day till we have to hear about a "rigged election" for the next 4 years

— Nathan Zed (@NathanZed) November 7, 2016