'We can't make a trade deal with the UK' - Donald Trump on Boris Johnson's Brexit agreement
1 November 2019, 07:21
US President Donald Trump has told LBC Boris Johnson's Brexit deal will make trade between the US and the UK very difficult.
Nigel Farage said Boris Johnson had "inherited a very difficult position" from Theresa May, but that the Prime Minister brings "a lot of energy" to the job, which President Trump agreed with.
Donald Trump revealed Mr Johnson had spoken to him about his proposed Brexit deal, with the President saying the Prime Minister is "in a very difficult position."
"I think he's willing to do what nobody else would do," Mr Trump said, adding the UK could do much more trade with the United States.
On Mr Johnson's trade deal the US President said "certain aspects of the deal" would mean trade between the US and the UK would not be possible.
"You can't do it," the President said.
He told Nigel Farage that trade between the two countries could be increased, "certainly much bigger numbers than you're doing under the European Union."
He said the current deal "precluded" the US in certain ways.
Nigel said that was "the problem" with Boris Johnson's deal.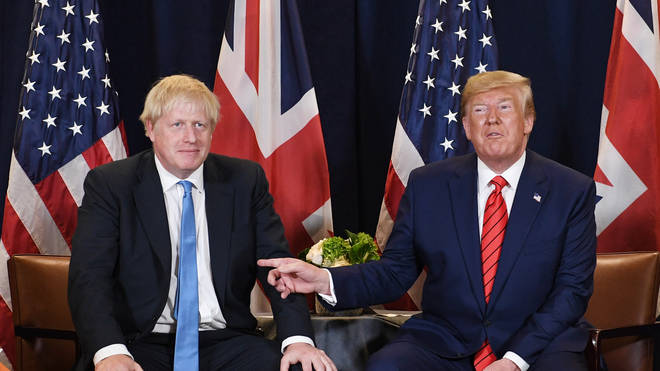 Nigel asked Mr Trump if the impending General Election meant that the Prime Minister should "drop this deal and go for a clean break so we can start having serious conversations with you?"
Branding Nigel Farage and Boris Johnson "two brilliant people, the President said they should "get together."
"You would really have some numbers," Trump said before telling Nigel that the PM respects him "a lot."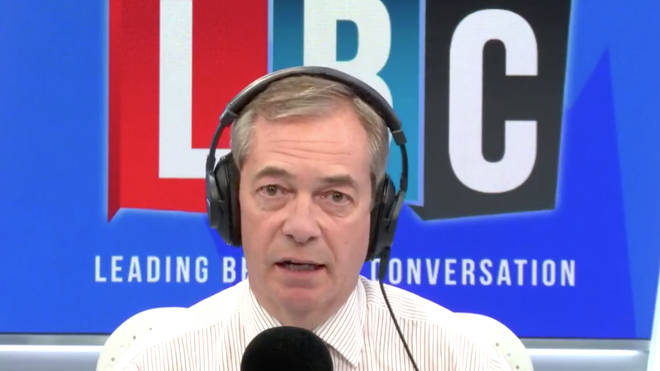 The Brexit Party leader said he would be "right behind" Boris Johnson if he "drops this dreadful deal, fights the General Election on the basis that we just want to have trade with Europe, but no political interference.
Do you know what? I'd be right behind him and let's hope he gets to that position."
The President also said Boris Johnson is "a fantastic man and I think he is the exact right guy for the times and I know that you and him will end up doing something that could be terrific."
Mr Trump told Nigel if he was to work with the Prime Minister they would be an "unstoppable force."
Watch the whole exchange in the video at the top of the page.