Angry Biker In Blazing Row With Litter Warden Over Dropped Cigarette Pack
31 January 2018, 14:31 | Updated: 31 January 2018, 14:34
A biker was involved in a blazing row with a litter warden who attempted to fine him for accidentally dropping a "full" packet of cigarettes on the floor.
A bystander managed to film the dramatic argument which took place inside a car park in Southport, Merseyside.
The four-minute video begins with the warden saying: "I gave you time to pick it up and you didn't".
Responding in disbelief, the biker responds: "I didn't even know it was there!
"It's got 18 cigarettes in it, why would I drop it on the floor and leave it?
"You can f*** off, you're not getting any details off me pal."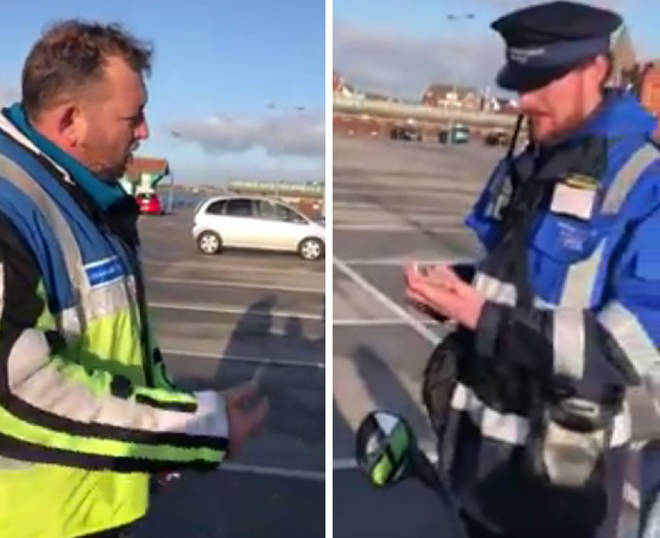 The warden appears to write out a ticket, before radioing through to his controller.
He tells them he has been getting abuse after spotting the biker drop the cigarette packet.
The warden adds: "The male made no attempt to pick it up", but the furious biker tells him to ring the police.
The controller's response is inaudible, but the biker was handed a warning rather than a £75 fine.
The video, which was posted onto Facebook on January 29, has been viewed more than 250,000 times.
A spokesman for Sefton Council said: "We are aware of an incident whereby a civil enforcement officer, employed by the councils enforcement contractor NSL Ltd, was verbally abused during the course of his day to day work.
"A male was witnessed dropping a cigarette packet near to the Floral Hall in Southport on Monday, January 29 and when approached by the officer, became abusive.
"A warning for littering was issued to the male at the scene.
"We will not tolerate abusive behaviour to any of our officers. Littering is an issue that we take seriously and it is a civil enforcement officers job to make sure it doesn't happen.
"We would encourage everyone to understand the necessary job they do under often difficult circumstances."