Asian Taxi Driver Stands Ground As Thug Spits And Racially Abuses Him
22 August 2017, 15:55 | Updated: 22 August 2017, 16:00
WARNING: This video contains very strong language.
Shocking footage has emerged of the moment an Asian taxi driver is spat at by a yob who bombarded him with torrents of vile racist abuse.
Attiq Khan, 29, says he was innocently sitting in his cab in a Birmingham park on Friday afternoon when a hooded thug started to hurl racial insults at him.
After five minutes of threats, the cabbie said he decided to take matters into his own hands by confronting the teen face to face.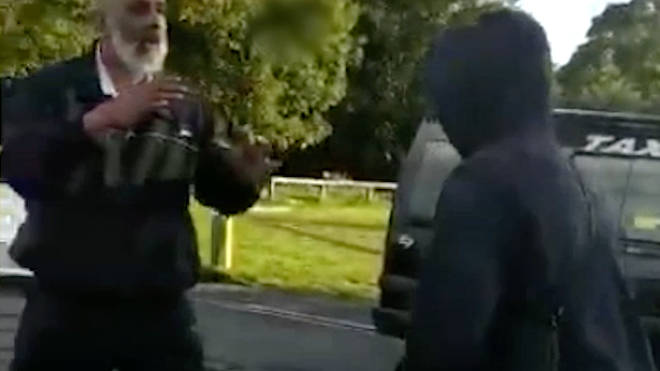 Video shot on a mobile phone shows Mr Khan being branded a "dirty f******* P***" as the pair square up to each other.
One onlooker can be seen calling the police as another attempts to calm down the increasingly hostile situation.
Punches are thrown and Mr Khan is spat at before the yob and his three friends flee the scene.
Mr Khan of Maidenhead in Berkshire said he had been reading his paper in his car moments before the shocking incident.
He said: "Out of nowhere, the guy pops up with his friends. I can see straightaway that he's got some sort of problem with me.
"He started grabbing at my car, and he clearly wanted me to come out.
"He was shouting: 'Come on then, you P*** c***, let's have some'."
The taxi driver, who was visiting a friend in the area, continued: "I needed to show him that I wasn't going to take it, and that I was the sort of guy that could strike back.
"He wanted a scrap, and I gave him one. As soon as I started on him, he backed away and wasn't having it anymore.
"There were onlookers would had heard the abuse, who were supporting me.
"After a while, someone started to call the police, and the four of them ran off.
"After all that talk, he was terrified of the police."