CCTV Of Drunk Passengers Stumbling On To Tracks Released To Warn Revellers
14 December 2017, 17:01 | Updated: 14 December 2017, 17:12
CCTV has been released showing revellers stumbling on to railway tracks in a warning to anybody using the trains after a night drinking this Christmas.
Network Rail has put out the video as accidents involving drunken passengers tend to spike over the festive period.
Around one in six of the 7,419 drink-related incidents on Britain's railways in 2016/17 took place between November 24 and January 2, British Transport Police figures show.
Passengers misusing level crossings and suffering trips and slips on platforms, stairs and escalators are among the common incidents noted.
Over the past decade, 21 people have been killed and 91 seriously injured in alcohol-related incidents at platform edges.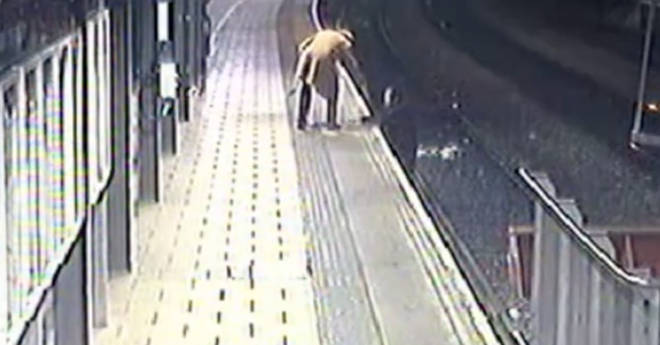 Allan Spence, head of public and passenger safety at Network Rail, warned that the railway "can be a dangerous place".
He said: "We're reminding the public to remain alert whilst they're having fun over the festive season.
"Taking a short cut across the tracks, chancing it at level crossings or tripping at the platform edge can at best cause delays to your journey - at worse it can result in serious harm.
"Enjoy yourself but don't let alcohol stop you or your fellow passengers from getting to where you need to be. Keep a clear head."