The Heroic Rescue That Earned This Migrant Citizenship
28 May 2018, 13:35 | Updated: 29 May 2018, 11:14
A Malian man hailed a hero will be granted French citizenship after saving a child dangling from a fourth floor balcony in Paris.
Mamoudou Gassama met with French President at the Elysee Palace after video footage emerges of his daring rescue.
As well as citizenship, Emmanuel Macron said that the 22-year-old will be offered a place in the fire brigade.
The migrant scaled an apartment block and pulled the girl to safety.
Footage shows Mr Gassama pulling himself up the side of the building in under 60 seconds, while a man tries to hold onto her from a neighbouring balcony.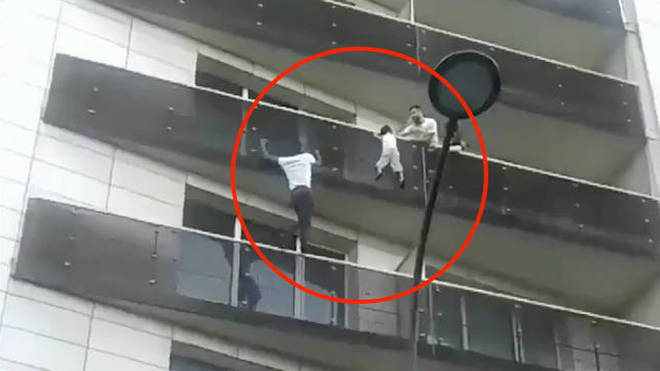 The girls mother was reportedly out of Paris, while her father has apparently been held for questioning by police for having left his child unattended.
Mr Gassama told reporters he acted without thinking.
"I saw all these people shouting, and cars sounding their horns. I climbed up like that and, thank God, I saved the child," he said.
"I felt afraid when I saved the child. We went into the living room, I started to shake, I could hardly stand up, I had to sit down."
Prior to his visit to the Elysee Palace, Mr Gassama had already been thanked by Paris mayor Anne Hidalgo in a telephone call.
"He explained to me that he had arrived from Mali a few months ago dreaming of building his life here," she said.
"I told him that his heroic act is an example to all citizens and that the city of Paris will obviously be very keen to support him in his efforts to settle in France."