Driver Parks Van On Beach, Van Gets Completely Submerged By Tide
10 October 2017, 13:20 | Updated: 10 October 2017, 13:38
A van which was precariously parked on an Essex beach ended up becoming completely submerged by the rising tide.
The owner of the silver Transit had left the vehicle on the sand along Southend seafront for over four hours on Sunday.
But as the tide move in, the vehicle was caught disappearing beneath the surface of the waves.
Moments before the roof dipped below the water, emergency services managed to cut a hole in the top of the van to make sure nobody was inside.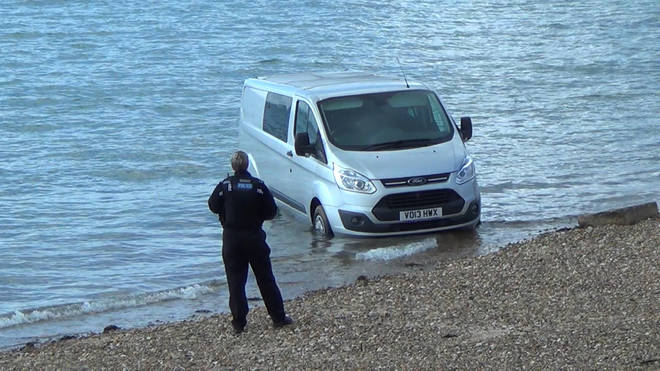 Nobody was injured in the drama, which was filmed by passer-by Mick Tanner.
The 59-year-old said: "When my wife and I were walking in town we came across the van on the beach, I did wonder why it had been left in such a precarious place.
"I was sure that it would be moved as I convinced myself that no one could be that stupid.
"We left the foreshore and headed home only stopping to pick up some supplies.
"While my wife was shopping I changed my mind and discussed going back to video what was happening.
"We eventually ended up videoing over about four hours."
Mr Tanner said the popular opinion among the crowd which gathered was the owner had offloaded a small boat into the sea at low tide.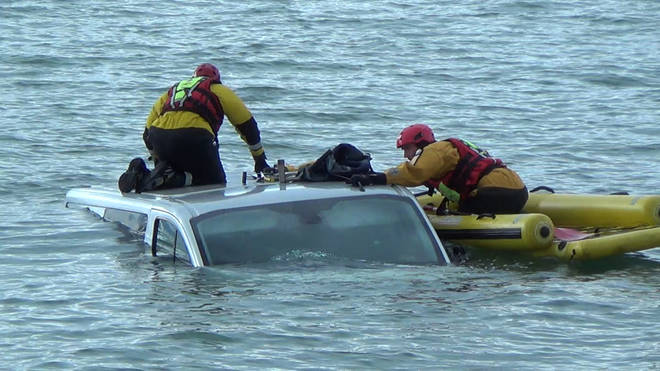 They believe the driver then parked the van on the beach "to save paying parking fees".
"They must not have realised the tide would swamp the van that far up the beach," he added.
Throughout the incident, a man on a jet-ski could be seen circling the sinking van, but it's not known if he was involved.
The van was later recovered by two passers-by, but the presumably devastated driver appeared to be no-where to be seen.
Watch the action unfold in the video at the top of this page.