Ed Miliband Insists Jeremy Corbyn Would Have Taken Trump To Task
13 July 2018, 16:56 | Updated: 13 July 2018, 18:18
Ed Miliband has insisted Jeremy Corbyn would have taken a tougher line with Donald Trump compared with Theresa May.
The former Labour leader is one of thousands of anti-Trump protesters marching through London.
It's as the US President continues his four-day working visit to Britain.
He held talks with Theresa May, had tea with the Queen before flying to Scotland for the weekend.
Earlier this morning a "Trump baby" balloon was hoisted into the air outside Parliament.
And speaking to LBC from one of the marches in central London, Mr Miliband insisted the protests were against the President, not America.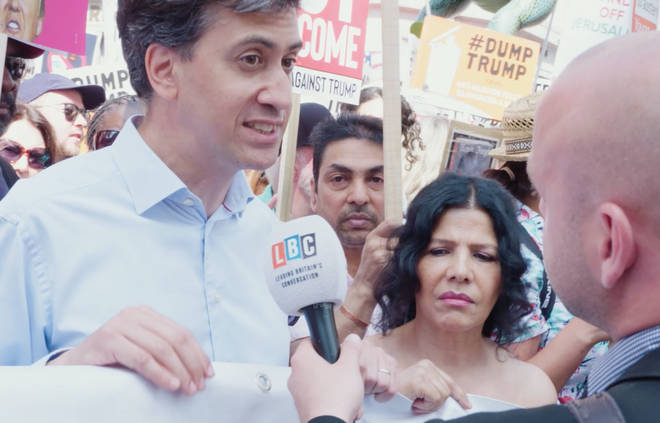 He said: "The guy is a liar who just makes things up and when he's caught out he just lies even more.
"I'm afraid the problem with Theresa May is right from the beginning she has embraced in thinking he'll do us a favour.
"He has done us no favours at all because the guy doesn't respect weakness."
Asked whether Jeremy Corbyn would have taken the US President to task, Mr Miliband replied: "Absolutely".