Family Release Chilling CCTV Of Moment Daughter Was Crushed By Off-Road Bike
13 December 2017, 15:22 | Updated: 13 December 2017, 17:26
The family of a teenager left in a coma after she was hit by an off-road motorbike has allowed horrifying CCTV of the incident to be released.
Jessica Chisnall was 15 when she was left seriously injured while walking home from school in St Helens, Merseyside on January 13.
The off-road bike, illegal on public roads, was being ridden by two boys aged 12 and 16 at the time.
The chilling footage shows the moment they mounted the pavement and crashed into Jessica, leaving her with bleeding on the brain, eye socket injuries and deep cuts.
She was put into a medically-induced coma before continuing her recovery at home.
The rider and passenger made off from the incident and were later arrested.
The 16-year-old was later given a Detention and Training Order and disqualified from driving for five years.
The 12-year-old was given a Youth Referral Order.
The off-road bike had been given to the 16-year-old passenger as a reward for good achievement in school.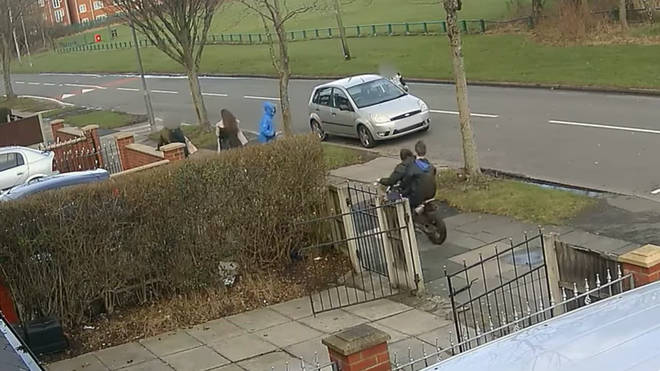 The footage has been released to remind people of the dangers of the illegal use of off-road motorbikes ahead of Christmas.
Shaun Regan of the Merseyside Police Roads Policing Constable, said: "We know that this CCTV footage will be distressing for some people to watch and it has taken immense courage by Jessica and her family to agree to its release.
"But it is so important that we show people the devastating and long-lasting impact that the dangerous and illegal use of off-road bikes can cause.
"This incident could have happened on any street in Merseyside, and should remind people that riding any vehicle on any pavement at any time is fraught with danger.
"Almost 12 months on from the incident, Jessica and her family are still recovering from what happened and we don't want any other families to go through their continuing ordeal."