Father Of Larry Nassar Victims Tries To Attack Disgraced Doctor In Court
2 February 2018, 16:04
The sentencing of disgraced US doctor Larry Nassar had to be suspended when a father of three victims tried to attack him in court.
The man, named as Randall Margraves, had to be restrained by three court security officers after he lunged at Nassar during a hearing in Michigan on Friday.
He attempted the attack after two of his daughters had given evidence.
Mr Margraves then asked the judge to have "five minutes in a locked room with that demon".
He then revised his request to one minute, but she repeated that she could not allow it.
He then rushed towards Nassar but was tackled to the floor by bailiffs.
As he was handcuffed, he yelled: "I want that son of a b****.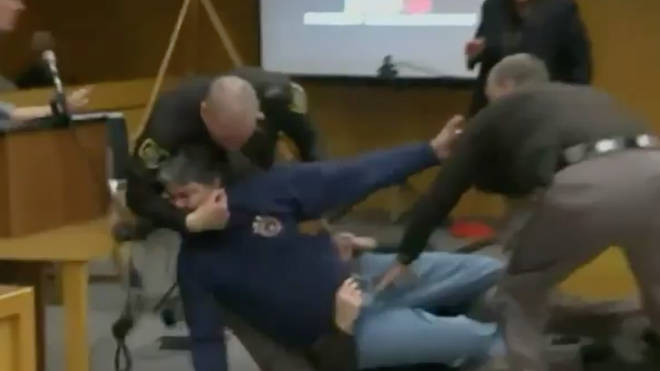 The incident came as a number of women waited to face Nassar in court and outline the abuse they suffered at his hands.
Nassar is facing his third and final sentencing hearing, where he has pleaded guilty to molesting three girls.
The former US Olympic gymnastics team doctor is already sentenced to up to 175 years in prison for a string of other assaults, and 60 years for child abuse images.
You can watch the dramatic moment unfold above.