Have-A-Go Hero Puts "Drunk" Ryanair Passenger In A Chokehold
12 September 2017, 13:14 | Updated: 12 September 2017, 16:31
The extraordinary moment a have-a-go hero put an aggressive passenger into a chokehold onboard a Ryanair flight has been caught on camera
Cheers broke out as the disruptive flyer, who was allegedly drunk, was overpowered by the vigilante.
The commotion took place while the plane was stationary at Luton Airport after returning from Girona in Spain.
The astonishing moment was captured before police arrived and arrested the 22-year-old man.
Dean Whiteside, 26, from Dagenham, had been returning from holiday when he filmed the scenes after the plane had touched down.
He described how the man had been causing problems throughout the two-hour flight.
He said: "Over the course of the flight he was singing loudly with his headphones on.
"It was a late flight, everyone was tired and he was rubbing people up the wrong way.
"The stewardess spent about an hour telling him, 'You're going to need to be quiet or I'll call the police'."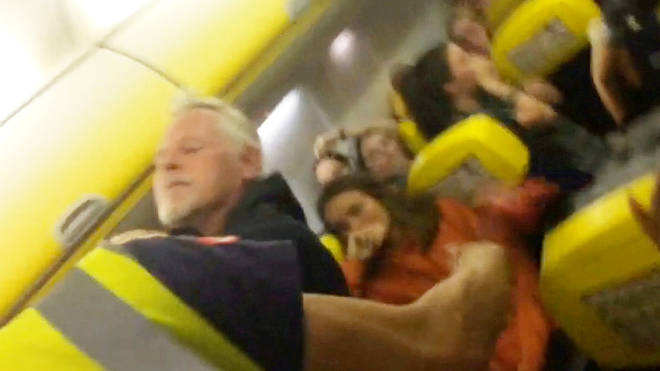 A spokesperson for Bedfordshire Police said: "We were called to attend Luton Airport arrivals at 11pm on June 30 following reports of a passenger acting aggressively on an inbound flight.
"A 22-year-old man from Dagenham was arrested on suspicion of common assault and being drunk on an aircraft.
"He was taken into police custody and dealt with by way of simple caution."
Watch the action unfold at the top of this page.