Impatient Tube Passenger Orders Blind Man To Move Guide Dog Out The Way
8 February 2018, 14:58
The moment an angry Tube passenger demanded a blind man move his guide dog out the way on an escalator has been captured on camera.
The commuter's rant was picked up on the animal's mounted camera at London Bridge station on Tuesday.
Amit Patel, 37, was being accompanied a TfL staff member when he was confronted.
In the remarkable footage, the impatient man says: "Can you move to the right please?"
The TfL worker responds: "Give me one second," to which the commuter says: "I want to get past".
"Where would you like him to go?" replies the tube worker.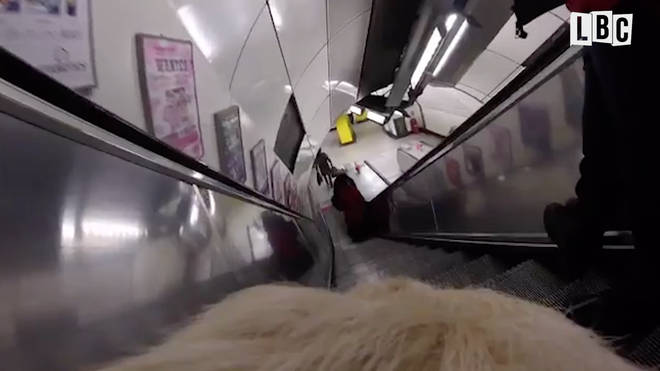 Mr Patel explains that the guide dog is assisting him - but the commuter hits back "I know that!"
The staff member then asks: "How do you expect him to get down? He needs to hold on."
But the commuter persists: "No no just let go of the handrail and I can pass."
The footage has since been shared thousands of times after it was posted onto social media.
The caption read: "If you see a #GuideDog on a escalator please wait patiently behind.
"Under no circumstance should you try to push through! I'm trained to hold my ground to keep dad and myself safe.
"Great job by @TfL staff who was with us."