Is This The Worst Attempt At Parallel Parking Of All Time?
6 March 2018, 13:03 | Updated: 6 March 2018, 13:07
A woman's apparent attempt at street parking has gone viral after she ended up smashing into two cars in two separate crashes.
The remarkable footage shows the driver reverse at speed into a moving car before shooting forward into a second vehicle.
Moments before the crashes, the black hatchback could be seen mounted on the kerb at a skewed angle.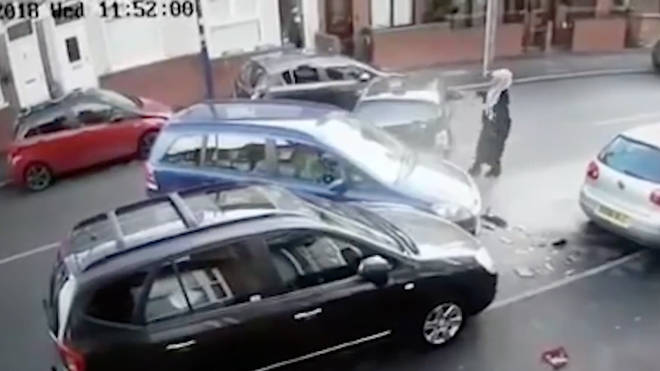 The shocking and bizarre parking attempt sent debris flying across the road.
Witnesses could be seen racing out of their houses as a passenger begged the driver to stop.
The video was posted onto Facebook where it has been watched thousands of times by bemused viewers.
One wrote: "This is BEYOND UNBELIEVABLE. I think the examiner who passed her should be getting hauled in and questioned."
Another added: "This is actually so bad, if there had been a pedestrian on the pavement they could have really injured them. Get their driving licence taking away! If they have one!"
It's believed the crashes took place on a street in Bolton, Greater Manchester on January 31 2018.
You can watch the incredible footage above.