Jacob Rees-Mogg To Host LBC Phone-In As New Spring Schedule Is Unveiled
3 April 2018, 09:02 | Updated: 13 April 2018, 14:06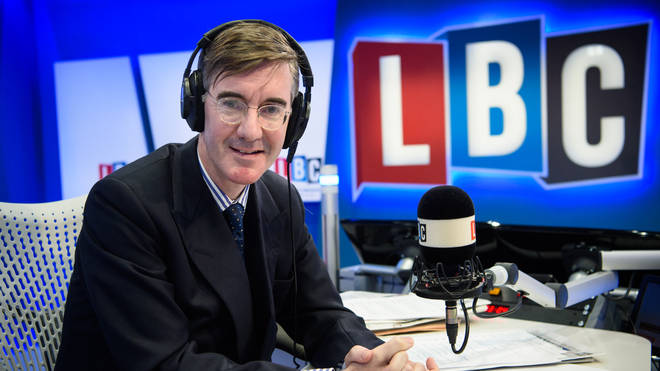 Jacob Rees-Mogg is joining LBC to host a new live phone-in as part of our brand new spring schedule.
Starting on Monday 16th April, the popular Tory Brexiteer will take your calls every two weeks for a 30-minute phone-in during Nick Ferrari at Breakfast.
It'll be your chance to put your questions directly to the man who is one of the front runners to be next Conservative leader - and no topic is off limits.
Jacob Rees-Mogg said: "I am greatly looking forward to conversing with LBC's listeners every fortnight.
"In the programmes I have done already, the good sense and wisdom of the callers has educated, informed and challenged me while furthering polite political discourse.
"I hope for more of the same."
The MP for North East Somerset is one of a number of changes to the LBC line-up as multi-award winning Tom Swarbrick returns as the new presenter of weekend breakfast.
Every Saturday and Sunday between 7am to 10am the ex-Number 10 adviser will give an invaluable insight into Downing Street.
Before his role as Number 10's head of broadcast, Swarbrick spent more than four years at LBC as chief correspondent and then weekend afternoon presenter.
To kick start the weekends on LBC, covering the biggest stories of the day, Ian Payne will host the early breakfast show between 4am and 7am.
Andrew Castle, one of the UK's most experienced presenters, will front a new three-hour weekend drive programme between 3pm and 6pm.
James Rea, LBC's managing editor, said: "Our new spring schedule is packed with a cast of the UK's best broadcasters, with our two million weekly listeners in the starring role.
"They don't hold back in challenging the nation's political leaders on the issues that matter to them, so we're looking forward to our new fortnightly phone-in with Jacob Rees-Mogg.
"When it comes to intelligent and opinionated radio, LBC leads the way and sets the news agenda."