Machete-Wielding Man Raids Shop Dressed As Pantomime Witch
23 August 2017, 14:48
This is the incredibly bizarre moment an armed robber raided a busy Co-op store dressed as a pantomime witch.
Nicholas Overton, 39, wore a blonde wig, black dress and hat when he targeted the shop in Newport, Wales on July 7.
The shocking CCTV shows the moment the robber pulls out a long machete from his handbag and launches it towards the shop counter.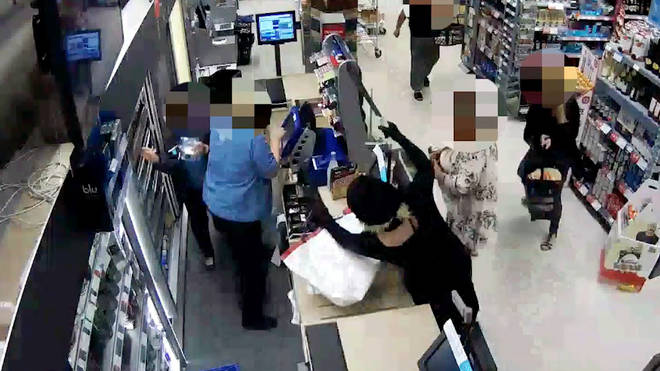 Wearing a floor-length black dress and pointed hat, Overton, of Lewisham in London, can be seen frantically trying to gain access to the tills.
As staff usher customers outside, one worker is seen unlocking the cash desk as the thief fills carrier bags with money.
Two men inside the store chased the robber out of the Co-op in Cromwell Road and managed to record his Vauxhall Vectra registration plate.
It was reported to police, who stopped Overton the next day after he was spotted driving at 70mph in a 30mph zone.
He pleaded guilty to robbery, having an offensive weapon, dangerous driving and failing to provide a specimen.
He was given a life sentence with a minimum of four years at Cardiff Crown Court.
Once he is released, he will remain on licence for the rest of his life.
Watch the incredible CCTV above.