Man Beating Ex-Wife In Street Gets Headbutted By Have-A-Go Hero
1 June 2018, 11:14 | Updated: 1 June 2018, 11:36
CCTV shows the moment a have-a-go hero floored a domestic abuser with a flying headbutt after spotting him beating his ex-wife in the middle of a street.
Shocking video footage shows the man repeatedly hitting the defenceless woman on the head in a Turkish street.
He continues to beat the woman with what appears to be rolled up papers as she falls to her knees and screams for help.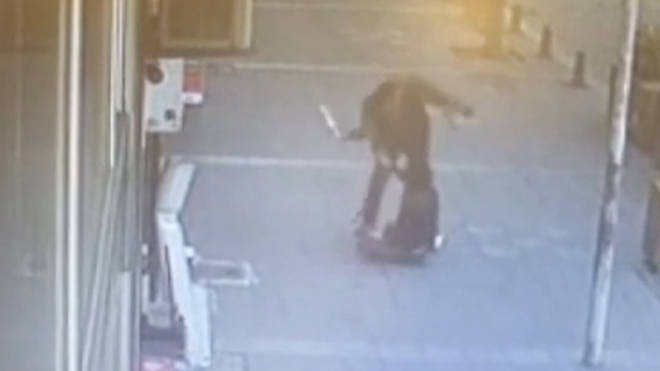 Moments later, another man can be seen charging towards the thug and takes him down with a remarkable headbutt.
The have-a-go-hero sends the man crashing to the ground as other passers-by begin to pile on top of him.
One witness said: "The man was beating his wife, she was crying and screaming," The Sun reported.
"Then a passer-by knocked him down."
Another witness added: "It was terrifying. The woman was yelling the place down.
"She was trying to protect herself. This kind of violence in unacceptable."
The violence began after the couple, believed to be divorced, attended a hearing at Istanbul Court of Justice, according to local media reports.
The man was later arrested.