Masked Raiders Beat Terrified Coffee Shop Customers And Staff With Hammers
20 October 2017, 13:40
A gang has been caught on CCTV bursting in to a coffee shop and attacking terrified customers and staff with hammers and baseball bats.
The extreme footage shows three thugs wearing black hooded jackets and balaclavas chasing and beating anybody in their path.
One customer can be seen trying to fight off the men with a metal stool, before he is chased and beaten to the floor.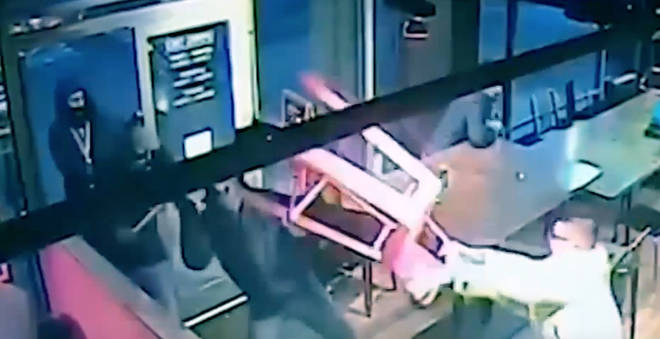 The shocking event happened inside the Coffee Kup in the centre of Birmingham on Wednesday afternoon.
The CCTV also shows a woman and her children fleeing the raid which lasted 45 seconds.
A member of staff saw a black BMW pull-up outside the shop and raised the alarm after seeing the armed attackers exit the vehicle.
Co-owner Lakh Dhillon said the attackers used baseball bats, a hammer and a screwdriver.
The 40-year-old said: "There was a lot of damage.
"My security guard was left with a broken hand and broken arm.
"If his friend hadn't helped him it could have been a lot worse.
"There was also a lot of blood and I think a screwdriver was used."
West Midlands Police confirmed it received 999 calls following the attempted robbery.
A spokesperson said: "We are currently investigating and enquiries are on-going."