Moped Driver Risks Life As He Drives Through Level Crossing... And Is Hit By Barrier
3 August 2017, 10:03
Horrifying CCTV footage shows the moment two youngsters on a moped ignore the flashing lights on a level crossing - and then get hit by the barrier.
Network Rail released the video of the duo trying to cross the Navigation Road level crossing in Altrincham.
Despite the warning lights to stop, the driver weaved through the closing barriers.
But his passenger was hit by the second barrier at the start of the crossing and he wobbled before crashing into the far barrier.
The driver stopped to pick up his injured passenger before slowly driving away.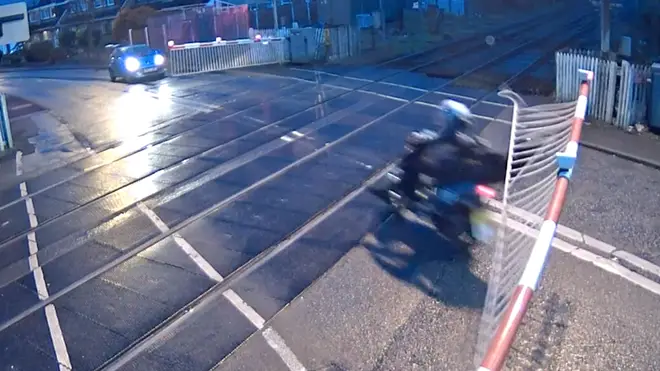 Ben Parish from Network Rail said: "This selfish duo had callous neglect for the safety of themselves and others by ignoring the barriers and flashing signals. Level crossing barriers and warning lights are there to help road users, pedestrians and railway users stay safe. Misusing crossings in this way could result in serious injury or worse.
"I can't emphasise strongly enough the importance of safe and sensible level crossing use. If anyone has any concerns about a level crossing I would urge them to contact us immediately."