Motorist Leaves Pedestrian For Dead In Shocking Hit-And-Run
16 August 2017, 17:41 | Updated: 22 August 2017, 09:53
Horrifying footage has emerged of the moment a driver leaves a pedestrian for dead after running him over at a busy junction.
Warning: This video contains graphic scenes and strong language
The shocking incident was caught on a nearby motorcyclist's head camera and shows the black Mercedes drive over the man just before 4.30pm on July 11.
The motorist then calmly drives off, leaving his victim, a 35-year-old man, lying motionless in the road.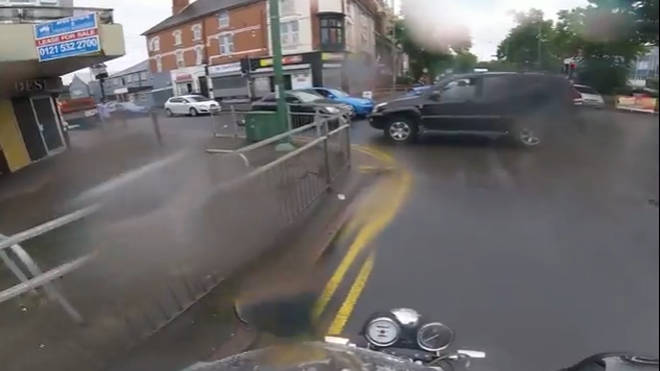 Distraught members of the public can be seen running to the lifeless man's aid after witnessing the hit-and-run in the Moseley area of Birmingham.
One of those was Zoe McCarthy who captured the terrifying incident as she rode home from work.
She said: "It happened so quickly. The man was standing in the street and talking to a driver through the window of his car.
"The man in the Mercedes behind was impatient and started shouting. He reversed and drove over him.
"It was shocking. I couldn't believe what was happening. The car just dove off while the man lay in the street."
The victim is now fighting for his life in hospital and is believed to have been left severely brain damaged.
A spokesperson for West Midlands Police said a 43-year-old man handed himself in later that night.
He was arrested on suspicion of attempted murder and has been released on police bail.