Man In Custody After Explosion At Manhattan Bus Terminal
11 December 2017, 13:10 | Updated: 11 December 2017, 18:33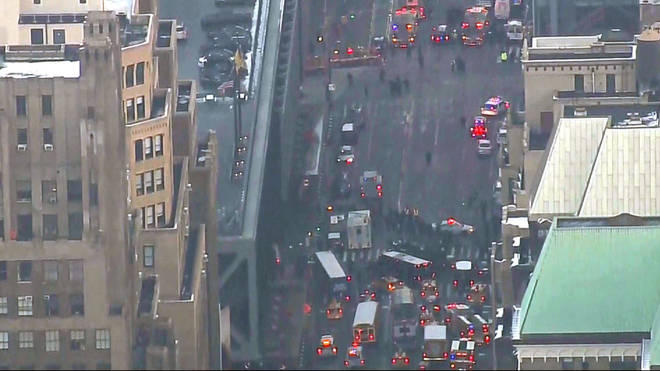 A man is in custody following an explosion at a bus terminal in Manhattan, the NYPD has said.
The blast occurred during the Monday morning rush hour in a passageway at the Port Authority Bus Terminal.
Four people, including the suspect, were injured - non of them seriously.
New York Governor Andrew Cuomo described the device used as "low-tech" in what is now being treated as an attempted terror attack.
"This is New York," he said in a press conference. "The reality is that we are a target by many who would like to make a statement against freedom and liberty."
The suspect has been identified as 27-year-old Akayed Ulla, who is believed to have acted alone.
The explosion took place in a subway at 42nd St and 8th Ave.
Josh Caplan, a British Journalist with The Tab in New York was evacuated from the Port Authority.
He told LBC the moment "everybody legged it".
Mr Caplan said: "Suddenly I heard a lot of shouting, people rushing up from the subway and police shouting 'Get out, get out, get out.'
"I tried to work out what was happening from the people rushing past me and a lot of people said they had heard the explosion and they were told to get out as fast as they can.
"As I was leaving there was a huge mass of people, imagine a station in rush hour, flooding out onto one of New York's busiest streets.