Ruthless Biker Smacks Police Rider Over The Head On Busy Motorway
4 August 2017, 16:38 | Updated: 4 August 2017, 16:54
A video of a laughing motorcyclist smacking a police rider over the head while speeding past on a busy motorway has gone viral.
The brazen thug rides behind the unsuspecting Community Support Officer and hits the back of his helmet.
Dressed in all black he can be heard giggling as he speeds off, leaving the stunned officer behind.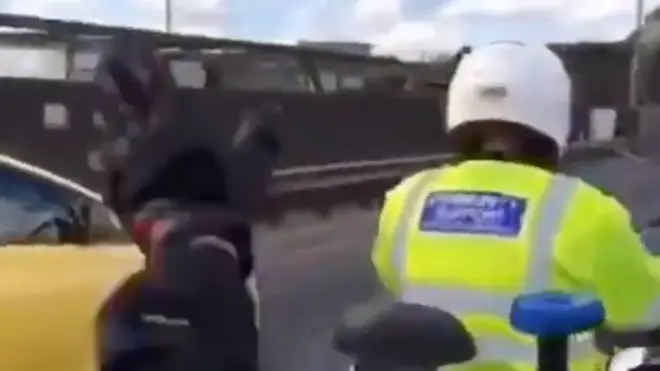 A second biker can be seen riding close, however it's not known whether he is part of the sequence.
The video was filmed by a passenger riding pillion along the busy carriageway.
It's been viewed more than 25,000 times after being shared on social media earlier this week.
Reports suggest the footage was shot in Birmingham, although this is yet to be confirmed.