Sainbury's Staff Drag Screaming "Shoplifter" By His Feet
15 December 2017, 16:40
Footage has emerged online showing Sainsbury's staff dragging an alleged shoplifter out the back of its supermarket in front of horrified shoppers.
One onlooker could be heard shouting "you wouldn't treat an animal like this" as workers pinned the screaming man to the floor.
The incident is understood to have taken place in Sainsbury's at Streatham Common, London on Tuesday.
It's not known what the man was accused of stealing, but one staff member can be seen holding a plastic bag believed to have belonged to the suspect.
The woman who caught the moment on camera could be heard expressing her disgust.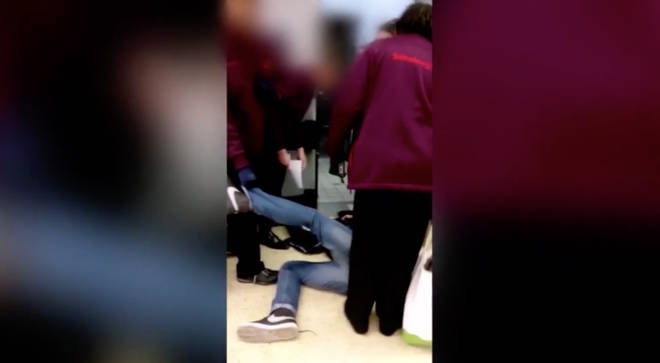 She says: "This is abuse, what are you pulling him for?"
"Where are you taking him then? Off the stop floor so you can beat him?
"Is that where you're going? So where are you taking him then?"
As the man is pulled towards the door, one worker replies that is it "none of your business".
The video has since been uploaded to social media, sparking a mixed response.
In a statement, a spokesperson for Sainsbury's said: "The safety of our customers and colleagues is our priority. We're supporting the police with their investigation."