Thief Thrusts Eight-Inch Knife Towards Co-op Cashier During Terrifying Raid
25 July 2017, 15:26 | Updated: 25 July 2017, 16:28
CCTV footage has captured the chilling moment an armed robber thrust a knife towards a cashier during a supermarket raid.
Desmond Myers was seen charging towards terrified staff with an eight-inch blade at the Co-op store in Derby back in January.
Wearing a hood, the 25-year-old lunged with the weapon towards one worker, before running behind the counter and forcing staff to open tills.
Another brave staff member can be seen trying to calm the situation down.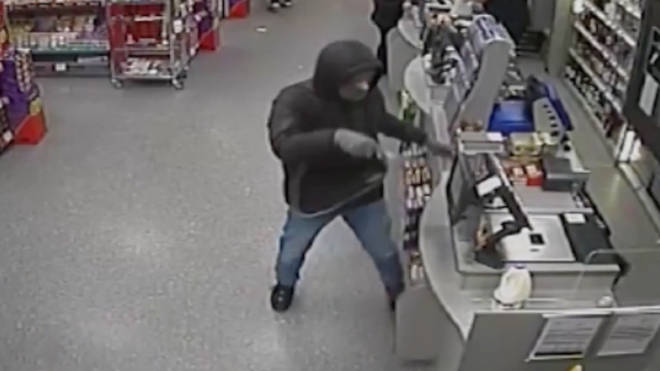 The horrifying video has been released after Myers, of Hucknall Road, Nottingham, was found guilty of robbery and having a knife in public.
He was sentenced to seven years in prison after appearing at Derby Crown Court last Friday.
The two members of staff involved in the robbery were awarded £500 each for their bravery by the judge.
Speaking after the sentencing, investigating officer DC Laura Sanders said: "As the CCTV shows, this was clearly a terrifying experience for both the staff involved and the members of the public who witnessed it.
"Myers entered the store with the sole intention to steal and he threatened the staff with the knife to enable him to do so. He was not concerned with how this would affect those involved and continued to deny his involvement throughout the trial."
Watch the terrifying CCTV above.