Woman Calls Man A "White Idiot" During Furious Row On Busy Train
8 December 2017, 11:50 | Updated: 8 December 2017, 14:51
An explosive row between two commuters ended with an angry woman branding a man a "white idiot".
The video, recorded by another passenger, shows the furious woman putting her feet on the male passenger's seat after warning him: "touch me again and I'll f***ing slap you".
The clip has gone viral after it was posted on to the Dartford Rail Travellers Association Facebook page on Thursday.
It's understood the five-minute altercation started after the man accused the young woman of putting her "muddy feet" on his seat.
During the row the woman also claims the man's wife is "using your money", adding "trust me, she doesn't love you".
Nearing the end of the video, she can be seen putting her foot on his seat between the man's legs.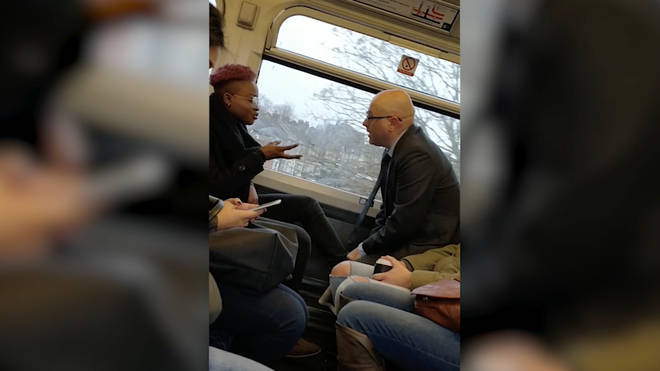 She then adds: "I'm literally grabbing you by your balls, do you understand this?
"You know you can't do s***."
The man laughs and says: "You're making yourself look like a complete fool.
"Just because you can't respect other people's property. Take your shoes off my seat."
The woman snaps back: "White idiot" to which the man responds "Ah, a racist as well now?"
You can watch the footage above.