Woman Critically Injured After "Wall Of Death" Stunt Goes Catastrophically Wrong
28 September 2017, 16:46 | Updated: 28 September 2017, 16:50
Horrific footage shows the moment a woman was hit by a car after the dangerous "wall of death" stunt went catastrophically wrong.
Warning: The video above contains graphic footage.
The act sees a number of vehicles and motorbikes speed around a 30ft high near-vertical circular wall while spectators watch from above.
The video shows the woman hanging down from the railings above on to the track at a fairground show on Tuesday.
Onlookers said her leg became trapped which led to a speeding car seemingly running over her head.
She then falls to the bottom of the pit before being rushed off by fellow performers.
The show was part of Navratri celebrations at Durgadi Fort in the Kalyan city in Thane district of the western Indian state of Maharashtra.
The woman is reportedly in a critical condition in hospital.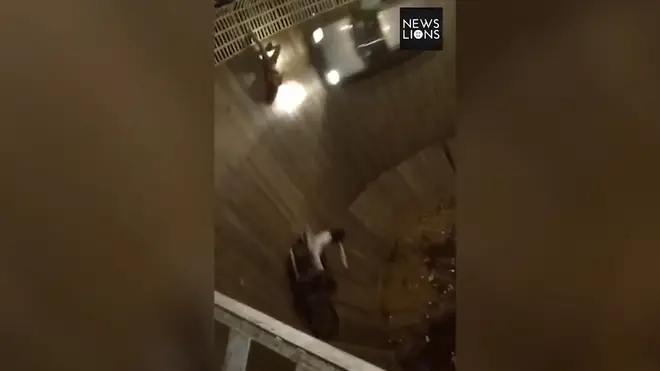 A horrified onlooker said: "She got injured while performing the 'well of death' car stunt.
"The woman's leg got entangled in iron grill at the top of the well, because of which she got stuck, in an upside down position, at the edge of the structure.
"After she dramatically tumbled to the bottom of the structure the other performers quickly carried the woman out of a door in the wall of the stage."
She was rushed to Ved hospital in Kongaon where she remains in a critical condition in the intensive care unit.
Police are investigating.