Woman Leaps Off Mobility Scooter To Push Girl Into A Fountain In Bizarre Brawl
8 September 2017, 15:42
This is the moment a woman leapt from her mobility scooter with a beer in hand and pushed a brawling teenager into a water fountain.
The bizarre commotion unfolded inside a village churchyard in Wisbech, Cambridgeshire and was captured on a mobile phone.
Student Dainius Nevardauskas was waiting for a friend when he says a "drunken" girl tried to obtain a cigarette from "two 13-year-olds".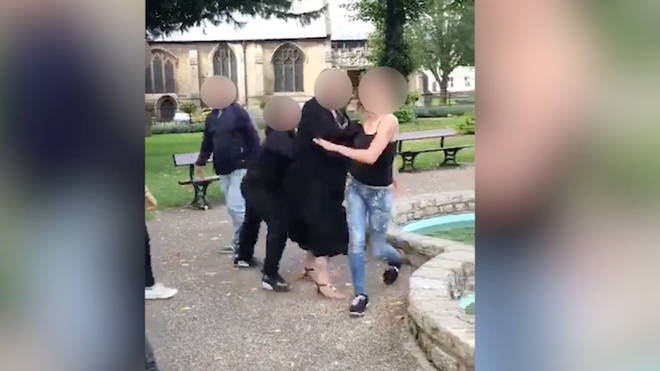 When the request was refused, Dainius claims a fracas ensued resulting in "total carnage" with hair-pulling, swearing and one youth being pushed head first into a water feature.
The video shows the woman jump from her mobility scooter to push the teen over, who soon retaliates as she bounces back on to her feet and throws the woman over.
The video quickly went viral and was shared nearly 2,000 times on social media.
A Cambridgeshire Constabulary spokesperson said: "We were called at 5pm on August 31 to reports of violence in Church Terrace, Wisbech,
"Officers attended the scene and a woman in her 20s from Wisbech was arrested on suspicion of common assault. She was later released under investigation."
Watch the incident unfold at the top of this page.