Woman Punches Cat Off Fence Because It Was "Bullying Her Pet"
13 December 2017, 16:24
Disturbing CCTV has emerged appearing to show a woman walking up a driveway before punching a cat off a fence.
The black and white pet was sent flying during the shocking incident which took place in Wandsworth, London on Tuesday.
The woman was joined by two other ladies, as well as a small white dog - who proceeded to chase after the pet.
The group are alleged to have being seeking revenge on the animal because it had "bullied" their own cat.
Valentina Kerinska, 36, came across the women on her driveway as she went to take her child for a walk.
She told the MailOnline: "I didn't know what had been happening.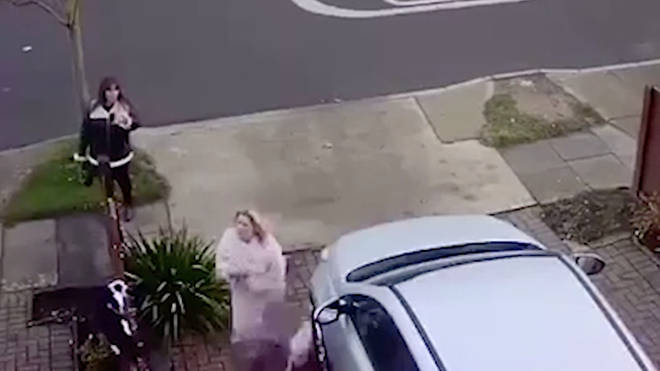 "I asked my husband to check the CCTV - I couldn't believe it.
"Three women with a broom, dog and handbag chasing my cat and entering onto my property.
"They were letting the dog run loose, scaring my cat.
"I am still in shock - they said to me that my cat is bullying their cat."
She added: "I tried to explain to them my cat is coming home as well with scratches but I'm not roaming with a broom on the street to get justice.
"The lady with the dressing gown said I'm going to get a bigger dog."