How LBC Responded To The Big News Stories Of 2017
18 December 2017, 12:34 | Updated: 18 December 2017, 13:28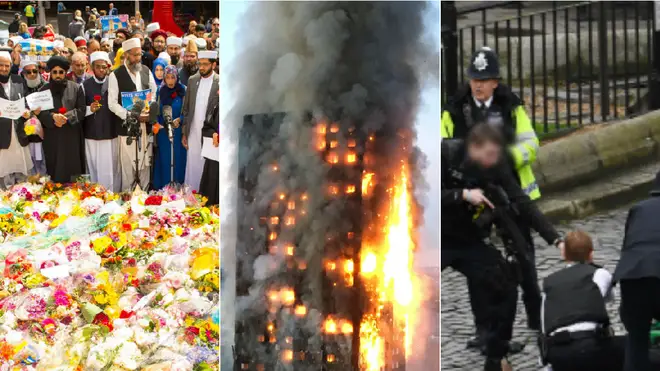 There's no getting away from it... 2017 was a difficult year. A number of terror attacks in Britain, the Grenfell tragedy which killed 71 people and political chaos. But it made for fascinating debate, as these remarkable clips show.
The Manchester Terror Attack
On the 22nd May, 23 people were killed when a Jihadi detonated a bomb outside the Ariana Grande concert at Manchester Arena. The next morning, James O'Brien held back the tears as he talked about the evil that would target children at a concert.
Lots of people lit candles and used the hashtag #PrayForManchester. But Ian Collins' idea of how politicians should respond got huge backing from our listeners.
The London Bridge Terror Attack
Just a couple of weeks after the Manchester attack, three man with knives went on the rampage on London Bridge, killing eight people. LBC was the first media to get an accurate picture of what was unfolding, thanks to this remarkable eyewitness account.
The next morning, Maajid Nawaz, a world expert on Islamic extremism, told Theresa May his four-point plan to defeat ISIS.
The General Election 2017
Theresa May called a snap General Election for June in a bid to boost her majority, but things went wrong and she ended up being propped up by the DUP. It came as a shock to almost everyone, but not if you listen to LBC. Here, Iain Dale admits that if he'd listened to his LBC callers, he'd have known what would happen.
Later that day, James O'Brien told listeners how pleased he was that voters rejected the hate from the right-wing media and chose to back a man who could help them believe in the future - Jeremy Corbyn.
Grenfell Tower Fire
The tragic fire at Grenfell Tower in North Kensington claimed 71 lives and caused political reverberations that will go on for years to come. This was the first eyewitness report LBC received on the night of the blaze from a resident who escaped from the 17th floor.
A couple of days later, James spoke to Shah who was on the phone to his mum when she died in the Grenfell Tower fire.
Westminster Bridge Terror Attack
2017 will be remembered for a number of terror attacks, starting with the Westminster attack in March. The terrorist Khalid Masood had dropped off the radar of MI5 prior to the attack - and, in the aftermath, Nick Ferrari had some strong words for what we need to do next.
Donald Trump's Travel Ban
The President of the US tried to install a ban on people travelling from seven predominantly Muslim countries to America, insisting it was the only way to protect themselves from terrorism. But this phenomenal clip from James picked apart Trump's arguments one by one.